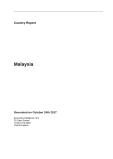 Country Report Malaysia October 2017
October 2017 •
Report ID: 360786 •
Format: PDF
Outlook for 2018-22


Although the next election is not due until August 2018, The Economist Intelligence Unit believes that it will be held early, in the fourth quarter of this year, as the prime minister, Najib Razak, attempts to cement his position.
Given the fragmented political opposition, which comprises two separate groups, the ruling Barisan Nasional (BN) coalition appears well placed to win the next parliamentary election.
Rising curbs on freedom of speech could lead to protests in the forecast period. However, given Malaysia's strict assembly laws, these are unlikely to pose a threat to the BN's political dominance.
We expect the budget deficit to remain manageable, narrowing to the equivalent of 3.2% of GDP by 2022, from 3.3% in 2018. Monetary policy will be loose up to 2020 as the economy weathers a slowdown in China and the US.
Real GDP growth is forecast to slow to 5.1% in 2018, from an estimated 5.5% in 2017, as economic activity decelerates markedly in China, Malaysia's largest export market. Real GDP will grow by an annual average of 5.1% in 2019-22.
Consumer price inflation will be fairly modest in 2018-22, averaging 2.8% a year. The benign outlook reflects the impact of an appreciating ringgit: US dollar exchange rate and weak increases in global commodity prices.


Review


The prime minister met the US president, Donald Trump, on September 12th. Mr Najib announced plans to invest in the US, headlined by an order for dozens of aircraft by the flag carrier, Malaysia Airlines.
On September 28th Malaysia imposed a ban on travel by its citizens to North Korea.
Malaysia signed an Energy Purchase Wheeling Agreement with Laos and Thailand on September 28th.
Output from the industrial sector surged by 6.1% year on year in July, buoyed by strong performances in the manufacturing and electricity sectors. Mining output increased by just 0.2%.
The consumer price index rose by 3.7% year on year in August, as transport costs increased by more than 11%. Consumer prices rose by an average of 3.9% year on year in the first eight months of 2017, marking the fastest acceleration since 2008.
The value of merchandise exports surged by 22% year on year in August, to US$18.9bn, according to the Department of Statistics. The trade surplus rose by 14% to US$2.2bn in the month.