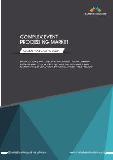 Complex Event Processing Market by Application, Service , Deployment, Vertical, User type, Region - Global Forecast to 2020
February 2016 •
162 pages •
Report ID: 3627700 •
Format: PDF
The rising adoption of device-based computing is the driving force of Complex Event Processing (CEP) market.

The market is estimated to grow from USD 1.28 billion in 2015 to USD 4.95 billion by 2020, at an estimated Compound Annual Growth Rate (CAGR) of 31.1%. Adoption of device-based computing, potential growth in demand for enterprise data, increase in requirement for compliance and verification, lesser data processing time by linking Service Oriented Architecture (SOA) and Event Driven Architecture (EDA) during deployment, personalization of technology, and increase in demand for client-oriented analytical tools are some of the prominent factors driving the adoption of CEP applications and services.

Asia-Pacific (APAC) is expected to grow at the highest CAGR for CEP applications.

Governance, risk, and compliance application is estimated to contribute the largest market share for the application market during the forecast period due to rising demand for enterprise systems. On-premise based
CEP is the largest contributor than the cloud-based CEP but the latter is expected to surpass the former due to the higher adoption rate of cloud technologies. Managed services segment in the services segment is expected to grow at a highest CAGR during the forecast period.

To determine the market size of various segments and sub-segments of the CEP market extensive, secondary research is done. The collected data were then verified through primary interviews. Distribution of primary interviews is as follows:-

By Designation: - C-level -40%, Director level-30%, and others -30%
By Company Type: - Tier 1- 35%, Tier 2- 40% and Tier 3 -25%
By Region: - North America- 40%), Europe -25%, APAC-20%, and Rest of World - 15%

Note: *Others include CEP managers, marketing managers, and product managers.
Note: Tier 1 companies have revenues more than USD 10 billion, Tier 2 companies range in between USD 1 and 10 billion or overall revenues, and Tier 3 companies range between USD 500 million and USD 1 billion of overall revenues.

Big data tools and analytics are increasingly contributing to the increasing popularity of CEP.

Modern enterprises are becoming more and more data oriented. They rely too much on their enterprise data for business decision making. Enterprises nowadays generate huge volume of data every day, whether it is customer relationship management, transaction processing system, supply chain management, or any other enterprise grade system. The growth of enterprise data is expected to grow massively in the upcoming years, increasing the demand for fast complex event processing tools. Moreover, IoT-based solutions, where high volume of data gets generated every second, will foster the adoption rate of complex event processing software in the upcoming years.

Various key players in the CEP market profiled in the report are IBM Corporation; SAP SE; Oracle Corporation; TIBCO Software Inc.; SAS Institute, Inc.; Informatica Corporation; WSO2, Inc.; Nastel Technologies, Inc.; Red Hat, Inc.; Software AG; and EsperTech, Inc.

The report will help the market leaders/new entrants in this market in the following ways:
1. This report segments the CEP market comprehensively and provides the closest approximations of the revenue numbers for the overall market and the sub-segments across end-users and regions.
2. The report will help stakeholders to understand the pulse of the market and provide them information on key market drivers, restraints, challenges, and opportunities.
3. This report will help in understanding the competitors better and gain more insights to strengthen their position in the business. The competitive landscape section includes competitor ecosystem, new product developments, partnerships, and mergers and acquisitions.