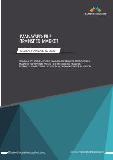 Managed File Transfer Market by Solution, Service, Deployment, Region, Organization Size, Vertical - Global Forecast to 2020
February 2016 •
119 pages •
Report ID: 3655081 •
Format: PDF
"Growing need for data security and governance is driving the managed file transfer market"
The managed file transfer market size is estimated to grow from USD 939.5 million in 2015 to USD 1,524.2 million by 2020, at a CAGR of 10.2%. Performance improvements and efficiency along with benefits such as security, auditability, traceability, and control over the file transfer process are the factors driving the growth of the managed file transfer market. Furthermore, the market is expected to be driven by opportunities such as cloud-based managed file transfer solutions and the rising trend of application integration.

"On-premises managed file transfer solutions are estimated to contribute the largest market share duing the forecast period"
Managed file transfer solutions are designed to offer control and monitoring over the file transfer process and they assist the end users in confronting the challenges of data security and compliance mandates. Various business functions such as warehousing, manufacturing, and human resource are utilizing managed file transfer solutions to move the application initiated file transfers to other applications or people. The market size of Small and Medium Enterprises (SMEs) is expected to grow at highest CAGR from 2015 to 2020 in the managed file transfer market. However, large enterprises are expected to contribute the largest market share during the forecast period. North America holds the largest share of the managed file transfer market; however, Asia-Pacific is expected to grow at the highest CAGR during the forecast period.

In the process of determining and verifying the market size for several segments and subsegments gathered through secondary research, extensive primary interviews were conducted with various key people. The breakdown of the profiles of the primary participants is as follows:

- By Company: Tier 1 – 30 %, Tier 2 – 40% and Tier 3 – 30%
- By Designation: C level – 72%, Director level – 14%, Others – 14%
- By Region: North America – 37%, Europe – 27%, APAC – 18%, RoW – 18%

Various key managed file transfer vendors and service providers profiled in the report are as follows:
1. IBM
2. GlobalSCAPE, Inc.
3. Attunity, Ltd.
4. Axway
5. IPswitch, Inc.
6. Conviant Software Corporation
7. Opentext Corporation
8. Accellion, Inc.
9. Jscape, LLC
10. Saison Information System, Co. Ltd.

The report will help the market leaders/new entrants in this market in the following ways:
1. This report segments the managed file transfer market comprehensively and provides the closest approximations of the revenue numbers for the overall market and the subsegments across different verticals and regions.
2. The report helps stakeholders to understand the pulse of the market and provides them information on key market drivers, restraints, challenges, and opportunities.
3. This report will help stakeholders to better understand the competitors and gain more insights to better their position in the business. The competitive landscape section includes competitor ecosystem, new product developments, partnerships, mergers and acquisitions.