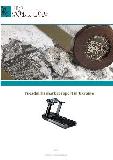 Ukrainian treadmills market report
December 2015 •
24 pages •
Report ID: 3683122 •
Format: PDF
Treadmill market at all is a part of sports goods. Because of several reasons further development of this market is not going as fast as expected. The B2C segment of the market is struggling under the sports clubs market development. The sports clubs can offer multiple choice of trainers for lower price. The economic crisis in Ukraine caused hryvnia devaluation and rapid growth of prices for imported goods. Since there are no local manufacturers of treadmills, consumers tend to delay the purchase of the treadmills.

Along with negative consequences the situation gives an opportunity for the potential market operators to start manufacture or distribution of the inexpensive treadmills to Ukraine along with an opportunity to enter the sports clubs market.

This report gives an overview for the treadmills market of Ukraine and its perspectives. The core information on market indicators, players on the market, brands and trends are given.