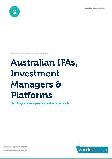 Australian IFAs, Investment Managers and Platforms
April 2016 •
27 pages •
Report ID: 3759503 •
Format: PDF
Summary
Financial advisors are a key distribution network for retail investors in Australia. All investment product manufacturers need to understand the priorities and criteria advisors use to select their investment partners and platforms. As almost all advisors use a platform to manage their client assets under management, understanding why certain platforms are more favored than others is crucial to gaining market share.

Key Findings
- With the greater transparency in fees and investment product costs in the wake of the FoFA reforms, advisors are looking for the most cost-effective means to invest in products and securities. Advisors need to detail to their clients what goes into their own charges, and so will appreciate providers that make it easy to map out costs.

- Platforms are first and foremost ranked by the investment fund range they offer, with almost half of survey respondents listing this as an important feature in making a platform attractive. A platform seeking to strengthen its appeal to advisors should look to ensure that the selection of investment funds is competitive in comparison to other platforms, although many other features also figure prominently in terms of advisors' priorities.

- Most Australian financial advisors see growing their customer base as the primary challenge facing their industry over the next two years, with client retention a concern for more than half as well. Advisors are clearly worried about their ability to attract clients and will want providers that can help.

Synopsis
Verdict Financial's "Australian IFAs, Investment Managers and Platforms" analyzes the relationship Australian financial advisors have with their product and platform providers based on our 2015 IFA Survey. The brief details the current use of platforms and the service arrangements advisors are seeking from their product providers. In addition to exploring the current relationships advisors have, the brief looks at the best lines of attack for platforms looking to build their advisor network.

What else does this report offer?

- Insight into the business concerns of Australian financial advisors post-FoFA.

- An investigation of the main features advisors look for in their platforms.

- Market share of the leading platforms in use by Australian financial advisors.

- Advisor ranking of the best platform packages in the market.

- Key features that prompt switching among advisors.

- Key recommendations for product manufacturers in what they can do to better appeal to Australian advisors.

Reasons To Buy
- Understand key trends in the Australian advisor community's perception of product providers.

- Understand how advisors are evaluating their platforms.

- Target those features that advisors most value.

- Improve advisor retention by understanding the services advisors most want from product providers.