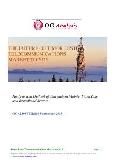 The Future of Timor-Leste Telecommunications Market to 2025 - Analysis and Outlook of Timor-Leste Mobile, Fixed Line and Broadband Sectors
October 2015 •
64 pages •
Report ID: 3807804 •
Format: PDF
Timor-Leste Telecom report provides complete analysis and outlook of the country's mobile, fixed landline and broadband service markets. The research report gives you the yearly outlook of the emergence of demand for mobiles, fixed landline, broadband services and ICT goods trade. In addition, changing patterns, key strategies being opted by companies in current shifting industry scenarios are detailed in the research work.

Timor-Leste Telecommunication industry is compared with peer markets to analyze the position of the country in the regional and global front. For detailed analysis of the market, key strengths, weaknesses, opportunities and threats of operating in the country are provided. Latest industry trends and drivers facing Timor-Leste telecom markets are included to enable better understanding and evaluation of operating or expanding in the market.

Demographic and macro economic factors driving the telecom market in Timor-Leste are also analyzed and forecasted to 2025 in the research work. Further, industry competition structure and profiles of leading five companies in Timor-Leste telecom sector are analyzed in detail in the report. All latest developments and their impact on players in the industry are also provided.