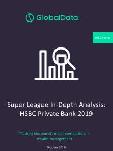 Super League In-Depth Analysis: HSBC Private Bank 2019
October 2019 •
34 pages •
Report ID: 4090594 •
Format: PDF
Super League In-Depth Analysis: HSBC Private Bank 2019

Summary
Headquartered in London, HSBC Holdings is a global universal bank.HSBC Private Bank is a brand used by its Global Private Banking division, catering to individuals with more than $5m (or the local currency equivalent) in assets.

Some wealth management operations are also run within HSBC's Retail Banking and Wealth Management business.

This competitor profile provides a comprehensive analysis of HSBC Private Bank's operations.It offers insight into the company's strategy and financial performance, including key data on assets under management (AUM).

Customer targeting and service propositions are covered, as are product innovation and marketing activities.

Scope
- HSBC Private Bank aims to be the private bank of choice for wealthy clients that already bank with other HSBC divisions, particularly entrepreneurs and family business owners.
- The long-running repositioning and restructuring of the private banking business is complete. As a result, HSBC Private Bank registered a 5% increase in revenues in 2018 after experiencing a continuous revenue decline over the previous six years.
- HSBC Private Bank is boosting its digital capabilities to improve financial outcomes for individual investors. For example, it rolled out BlackRock's Aladdin Wealth platform to offer holistic wealth advice to its clients.
- HSBC's marketing activities are mainly centered on sport sponsorships. The group sponsors a number of golf and rugby tournaments, as well as the Wimbledon tennis tournament.

Reasons to buy
- Examine the financial performance, key ratios, and AUM growth of HSBC Private Bank and benchmark it against other global wealth managers.
- Understand HSBC Private Bank's current strategic objectives and their impact on its financial performance.
- Discover HSBC Private Bank's key products and client targeting strategies and examine whether these have been successful.
- Learn more about HSBC Private Bank's marketing strategy, social media presence, and digital innovations.