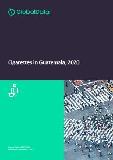 Cigarettes in Guatemala, 2020
September 2020 •
40 pages •
Report ID: 4187925 •
Format: PDF
Cigarettes in Guatemala, 2020

Summary
Cigarettes in Guatemala, 2020 is an analytical report that provides extensive and highly detailed current and future market trends in the tobacco market in Guatemala.It covers market size and structure along with per capita and overall consumption.

Additionally, it focuses on brand data, retail pricing, prospects, and forecasts for sales and consumption until 2030.

The legitimate cigarette market in Guatemala stood at a forecast 3,050 million pieces in 2019, which is 81.5% ahead of its level in 1990.Per capita consumption of cigarettes in Guatemala is forecast at 181 pieces in 2019 and 96.8% its level in 1990.Sales are dominated by the local affiliates BAT and PMI. The prospects for the market are for sales of 3,450 million pieces by 2030, representing an increase of 14.2% on 2020 levels

Scope
- Guatemala is the largest and most populous of the Central American countries but it has a comparatively small cigarette market .
- Data for 2017 notes a 6.9% faln imports to 1,807 million pieces with 1,753 million pieces recorded in 2019. Exports stood at 48 million pieces in 2019.
- the analyst estimates that 23.2% of the adult (18+) population in Guatemala was smokers in 2019. This is equivalent to an adult smoking population of 2.23 million comprising 1.49 million adult males (32.3%) and 736 thousand adult female (14.8%) smokers.

Reasons to Buy
- Get a detailed understanding of consumption to align your sales and marketing efforts with the latest trends in the market.
- Identify the areas of growth and opportunities, which will aid effective marketing planning.
- The differing growth rates in regional product sales drive fundamental shifts in the market.
- This report provides detailed, authoritative data on these changes - prime intelligence for marketers.
- Understand the market dynamics and essential data to benchmark your position and to identify where to compete in the future.