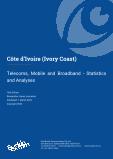 Côte d Ivoire (Ivory Coast) - Telecoms, Mobile and Broadband - Statistics and Analyses
May 2020 •
102 pages •
Report ID: 4208094 •
Format: PDF
Côte d'Ivoire continues to benefit from strong economic growth; though GDP has declined since 2014 the economy is still expected to have grown by about 7.

4% in 2018, supported by strong export in cocoa and palm oil and with greater efforts to develop the manufacturing sector as well as mining for gold and developing oil exports. The relatively peaceful elections held in October 2015 secured a second term for President Ouattara, who has focused on rebuilding the country's infrastructure and establishing economic and political stability.

Although it has two competing fixed network operators, the fixed-line sector is dominated by CI-Telecom. This operator is majority-owned by Orange Group and was merged with the Group's local mobile network operator, Orange Côte d'Ivoire, in December 2016. This created a unified service operator able to provide converged fixed-line as well as mobile voice and data services. The merger was in line with the government's aim of developing a telecom sector with a stronger focus on convergence. To this end the mobile licences were renewed in early 2016 as universal services licenses.
The strongest sector in the overall market is the mobile sector, dominated by MTN and Orange and with Moov (a subsidiary of Maroc Telecom) having about a quarter of the market by subscribers. The smaller operators KoZ (operated by the Lebanese Comium Group) and Green Network (backed by Libya's LAP Green before becoming part of the Libyan Post, Telecommunications and Information Technology Company (LPTIC)), Warid telecom and Globacom have folded, had their licenses evoked, or have failed to launch services.

The fixed internet and broadband sectors have remained underdeveloped. This is partly the legacy of high international bandwidth costs caused by the incumbent having had monopoly access to the only international fibre optic submarine cable serving the country. This was addressed with the landing of a second cable in November 2011. Access to additional cables are providing significant reductions in retail pricing for DSL, WiMAX and EV-DO wireless broadband services.
Further progress has been made in building out the national backbone network, which in 2019 was connected to the MainOne submarine cable. These developments will place the country in a better position to develop its broadband market and so encourage a prosperous digital economy.

The analyst notes that the outbreak of the Coronavirus in 2020 is having a significant impact on production and supply chains globally. During the coming year the telecoms sector to various degrees is likely to experience a downturn in mobile device production, while it may also be difficult for network operators to manage workflows when maintaining and upgrading existing infrastructure. Overall progress towards 5G may be postponed or slowed down in some countries.
On the consumer side, spending on telecoms services and devices is under pressure from the financial effect of large-scale job losses and the consequent restriction on disposable incomes. However, the crucial nature of telecom services, both for general communication as well as a tool for home-working, will offset such pressures. In many markets the net effect should be a steady though reduced increased in subscriber growth.
Although it is challenging to predict and interpret the long-term impacts of the crisis as it develops, these have been acknowledged in the industry forecasts contained in this report.
The report also covers the responses of the telecom operators as well as government agencies and regulators as they react to the crisis to ensure that citizens can continue to make optimum use of telecom services. This can be reflected in subsidy schemes and the promotion of tele-health and tele-education, among other solutions.

Key developments:
Main One secures licence to provide connectivity services in Cote dIvoire, planning new Tier III data centre in 2020;
Orange Group to launch Orange Bank based on the Orange Money platform;
VipNet launches MNP;
0.5% tax on m-money transfers expected to bring in XOF10 billion annually;
Value of m-money transfers reaches XOF17 billion per day;
Government further tightens SIM card registration rules;
LPTIC loses its universal telecoms licence;
Orange CI and CI-Telecom complete merger, creating converged fixed-line and mobile operator;
MTN Ivory Coast commits to XOF120 billion network upgrade investment;
WiMAX operator YooMee deploys LTE;
Report update includes regulators market data to June 2018, telcos operating data to Q4 2018, Telecom Maturity Index charts and analyses, assessment of the global impact of COVID-19 on the telecoms sector, recent market developments.

Companies mentioned in this report:
Côte d'Ivoire Telecom (CI-Telecom), MTN CI, Arobase Telecom, Orange CI (France Telecom), Comium CI (KoZ), Etisalat (Moov), LapGreen (Green Network, GreenN, Oricel), Warid Telecom, Globacom, CORA de Comstar, Aircomm CI, Mainstreet Technologies, Africa Online, AfNet, Aviso, Globe Access Internet (Omnes), Intel Afrique, Solaris Telecom, Africom, Afripa Telecom (Atlantique Telecom), Comete, Globe Access, Monicash.