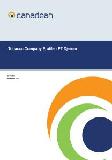 Tobacco Company Profile - PT Djarum
November 2016 •
26 pages •
Report ID: 4313726 •
Format: PDF
Summary
PT Djarum is an indepdent, family run, Indonesian tobacco company based in Kudas. Despite this, Djarum is the third biggest tobacco producer in Indonesia and widely exports to foreign countries, such as Malaysia and Singapore. The company mainly specializes in kretek cigarettes, which is a blend of cloves, tobacco, and other flavors that are either hand-made or machine-made, but the company also produces traditional 'white' cigarettes. The company is heavily diversified it sectors such as: banking, retail, transport hospitality and electronics, but its core business is still kretek cigarettes.

Key Findings
- PT Djarum's global sales in 2015 were 59.5 billion pieces

- Only two billion cigarette pieces were exported in 2015, which illustrates the company's dependence on the domestic market

- The country currently controls 18.3% of the Indonesian cigarette market, as of 2015

- It controls 19.3% of Indonesian kretek market

Synopsis
Tobacco Company Profile - PT Djarum is an analytical company report by Canadean that provides extensive and highly detailed current and future market trends in the cigarette market. It covers market size and structure along with per capita and overall consumption. Additionally, it focuses on brand data, retail pricing, prospects, and forecasts for sales and consumption.

Reasons To Buy
- Get a detailed understanding of consumption to align your sales and marketing efforts with the latest trends in the market. Identify the areas of growth and opportunities, which will aid effective marketing planning.

- The differing growth rates in regional product sales drive fundamental shifts in the market.

- This report provides detailed, authoritative data on these changes - prime intelligence for marketers.

- Understand the market dynamics and essential data to benchmark your position and to identify where to compete in the future.