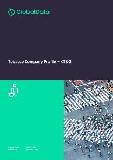 Tobacco Company Profile - KT&G
October 2017 •
39 pages •
Report ID: 4607232 •
Format: PDF
Tobacco Company Profile - KT&G

Summary
"Tobacco Company Profile - KT&G", is an analytical company report by GlobalData that provides extensive and highly detailed current and future market trends in the cigarette market. It covers company size and structure along with brand data, retail pricing, prospects, and forecasts for sales and consumption.

KT&G is the leading challenger to the big four cigarette companies. Originally the national tobacco company of South Korea, KT&G has conducted a large global expansion in tobacco and has diversified into numerous sectors in South Korea.

Scope
- KT&G sales in 2016 were 48.7 billion pieces
- In 2015 international sales exceeded its' domestic sales for the first time
- The company controls 59.2% of the South Korean cigarette market as of 2016 data
- Its major export markets include the UAE, Afghanistan, Iraq, Iran, and Russia.

Reasons to buy
- Get a detailed understanding of consumption to align your sales and marketing efforts with the latest trends in the market.
- Identify the areas of growth and opportunities, which will aid effective marketing planning.
- The differing growth rates in regional product sales drive fundamental shifts in the market.
- This report provides detailed, authoritative data on these changes - prime intelligence for marketers.
- Understand the market dynamics and essential data to benchmark your position and to identify where to compete in the future.