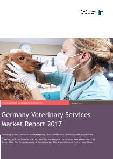 Germany Veterinary Services Market Report 2017
February 2017 •
82 pages •
Report ID: 4773246 •
Format: PDF
Insurance Services Aiding Pet Owners' is the most recent trend observed in the veterinary services market as of 2016. The pet insurance industry is offering new product lines for veterinary services in developed markets. The insurance cover helps pet owners to explore a range of treatment options available ensuring better healthcare of animals. For example, Healthy Paws pet insurance offers insurance for pet illness, accidents, hereditary and congenital conditions, chronic conditions and alternative care.

Veterinary services provide healthcare for animals - especially pets, farm animals, and animals kept in zoos and wildlife parks. This market comprises licensed veterinary practitioners who practice veterinary medicine, dentistry or surgery for animals.

Germany is the seventh largest country in Europe. It is the most populated country in Europe. According to the IMF and the World Bank, Germany is the fourth largest economy in the world and the world's fifth largest economy in purchasing power parity.

It is estimated that the percentage of households owning at least one dog in Germany increased from 13% in 2010 to 14% in 2014, while that of one cat increased from 16% to 20% from 2010 to 2014.
Pets are common in single person and small households in Germany. Cats are the highest number of pets owned and the second highest is dogs. 19% of the German households owned pet cats and 16% owned pet dogs as of 2013.

Animal Hospitals And Veterinary Clinics was the largest segment in the veterinary services market at 84% of the global market and Veterinary Laboratory Testing Services was the second largest segment at 16% of the global market.