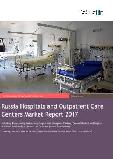 Russia Healthcare Services Market Report 2017
February 2017 •
105 pages •
Report ID: 4773267 •
Format: PDF
Russia had the thirteen highest GDP in the world worth about $1.4 trillion accounting for 1.7% of the global GDP in 2015.
The Russian healthcare system is highly regulated by the national government. It has a network of public hospitals and healthcare facilities. Russia is currently undergoing an economic slowdown, resulting in a decline in its healthcare services market. Low investment and substantial inequalities in healthcare access across regions and income groups, are further slowing the struggle of the county's healthcare services system to become more efficient and effective. The Russian Medical Association is an association of physicians of government and private hospitals.

Hospitals and outpatient centers are medical facilities that provide diagnostic and medical treatment to patients with a wide range of medical conditions. Outpatient care centers offer medical care or treatment that does not require any overnight stay in a hospital or medical facility.

Shared Medical Appointments was the most recent trend observed in the hospitals and outpatient centers market as of 2016. The shared medical appointments (SMA) model is a model generally defined as multiple patients being seen as a group by a multi-disciplinary medical care team for follow-up or routine care. It is being adopted by hospitals to create awareness and counsel individual patients dealing with similar medical conditions. The SMA supplements the traditional physician-patient appointment. SMAs provide individual evaluation and disease management for each patient at the same time that they provide counseling to the patient within a group setting. SMAs are currently used to address diabetes, asthma, ulcerative colitis, MS, cancer, HIV, menopause, insomnia and stress.