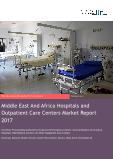 Middle East And Africa Healthcare Services Market Report 2017
February 2017 •
103 pages •
Report ID: 4773271 •
Format: PDF
Africa is the second largest and the second most populous continent in the world. It has about 1.1 billion population and 15% of the world's human population.
The GCC countries rely heavily on the government funding for providing healthcare services. For instance, as per World Health Organization (WHO), the governments in Saudi Arabia and UAE spent around 68% of the total healthcare spending in 2012. The countries in the GCC are heavily dependent on an expatriate health workforce.
Rising population, increasing per capita income and rising incidences of life style related diseases is driving the healthcare services market in the Gulf Cooperation Council (GCC) states of Bahrain, Kuwait, Oman, Qatar, Saudi Arabia, and the United Arab Emirates (UAE).

Hospitals and outpatient centers are medical facilities that provide diagnostic and medical treatment to patients with a wide range of medical conditions. Outpatient care centers offer medical care or treatment that does not require any overnight stay in a hospital or medical facility.

Shared Medical Appointments was the top trend in the hospitals and outpatient centers market as of 2016. The shared medical appointments (SMA) model is a model generally defined as multiple patients being seen as a group by a multi-disciplinary medical care team for follow-up or routine care. It is being adopted by hospitals to create awareness and counsel individual patients dealing with similar medical conditions. The SMA supplements the traditional physician-patient appointment. SMAs provide individual evaluation and disease management for each patient at the same time that they provide counseling to the patient within a group setting. SMAs are currently used to address diabetes, asthma, ulcerative colitis, MS, cancer, HIV, menopause, insomnia and stress.