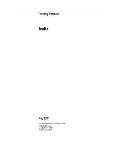 Country Forecast India May 2018 Updater
May 2018 •
Report ID: 490771 •
Format: PDF


The National Democratic Alliance (a centre-right, pan-Indian coalition of parties led by the Bharatiya Janata Party) will retain power in the next elections, scheduled for early 2019, albeit with a diminished majority.
In the forecast period (2018-22) India will seek closer relations with Japan and the US to counter China's growing influence in South Asia. India's relationship with neighbouring Pakistan will remain tense, owing to territorial disputes.
Improved tax administration and greater formalisation of the economy will help to boost government tax revenue. However, rising spending on social services, infrastructure and rural assistance will limit the government's ability to reduce the fiscal deficit much further. The Economist Intelligence Unit expects the budget shortfall to average the equivalent of 3.2% of GDP in fiscal years 2018/19-2022/23 (April-March).
Real GDP growth will average 7.7% a year in 2018/19-2022/23, largely driven by private consumption and infrastructure investment. Private-sector investment growth will accelerate from 2018 as policy measures to improve the business environment, such as tax reforms, start having an impact.
We expect consumer price inflation to average 5% a year in 2018-22. The Reserve Bank of India (the central bank) will tighten monetary policy in 2018, albeit only marginally, to help to keep inflation in check. In 2020 it will cut policy rates in response to weaker global GDP growth, before embarking on a tightening cycle from 2021 as the world economy recovers.
The rupee will depreciate in 2018-19, and again in 2021-22, largely as a result of India's persistent inflation differential with the US and its continuing current-account deficit. However, the local currency will appreciate slightly in 2020, owing to weaker economic growth and a fall in interest rates in the US.
Robust private consumption and a marked acceleration in investment spending from 2020 will boost imports of both consumer goods and machinery, leading to a widening of the merchandise trade deficit between 2018 and 2022. Overall, the current-account shortfall will average the equivalent of 1.9% of GDP in the forecast period.