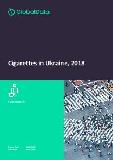 Cigarettes in Ukraine, 2018
April 2018 •
79 pages •
Report ID: 4910360 •
Format: PDF
Cigarettes in Ukraine, 2018

Summary
"Cigarettes in Ukraine, 2018", is an analytical report by GlobalData that provides extensive and highly detailed current and future market trends in Ukraine.

Ukraine is one of the largest Eastern European markets to emerge after the break-up of the former Soviet Union in the early 1990s, and has a population of just over 44 million, although this is gradually declining due to emigration, political disruption, and hostilities in the eastern region.The annexation of the Crimea and Sevastopol regions by Russia appears unlikely to be reversed, and resulted in a significant population decline.

In the south of the country, Ukraine shares borders with seven other central and Eastern European markets, giving it considerable strategic significance.Since January 2007, four of these borders have been with EU countries.

In addition to its frontiers with Russia, Ukraine also has borders with Moldova and Romania in the south west and with Hungary, Slovakia, and Poland in the west, while to the north lays Belarus.The country also has a large Black Sea coastline that facilitates direct trade with countries such as Bulgaria and Turkey, and is a member of the CIS although it is gravitating politically towards the EU.

Cigarettes remain relatively popular in the country.

What else does this report offer?
- Market size and structure of the overall and per capita consumption based upon a unique combination of industry research, fieldwork, market sizing analysis and our in-house expertise.
- Detailed information such as market shares and recent developments of the manufacturers, leading brands along with company profiles.
- Regulations, taxation, retail pricing, smoking habit and the growing health concerns affecting overall production.
- Prospects and forecasts of overall sales and consumption for 2017 to 2027.

Scope
- Ukraine is the second-largest cigarette market in the states that comprise former Soviet Union, after the Russian Federation.
- Including non-duty paid (smuggled and counterfeit) trade, in addition to duty paid sales, total consumption is estimated to have fallen.
- The Industry figures indicate that the level of illicit trade (smuggled and counterfeit), had risen in the first quarter of 2012 and reached a peak in the second and third quarters of 2013, but had dropped back by the final quarter of the year, highlighting seasonal fluctuations.
- The cigarette market is dominated by domestically manufactured cigarettes, comprising of a mix of locally produced international brands together with a range of newly introduced national brands and revamped traditional brands. These currently form the majority of domestic market volume.

Reasons to buy
- Get a detailed understanding of consumption to align your sales and marketing efforts with the latest trends in the market.
- Identify the areas of growth and opportunities, which will aid effective marketing planning.
- As consumers' product demands evolve, the dynamics between different countries also change - favoring some countries and leaving others increasingly out of line with demand patterns. As a result, understanding the specific market dynamics of the country's market is crucial to ensuring maximum future sales.
- The differing growth rates in regional product sales drive fundamental shifts in the market. This report provides detailed, authoritative data on these changes -prime intelligence for marketers.
- Understand the market dynamics and essential data to benchmark your position and to identify where to compete in the future.