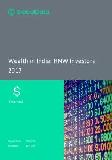 Wealth in India: HNW Investors 2017
May 2017 •
55 pages •
Report ID: 4928966 •
Format: PDF
Wealth in India: HNW Investors 2017

Summary

Serving the Indian HNW investor market means understanding the pressures of family wealth. Whether this wealth is derived from family business or inheritance, given the high proportion of HNW investors who derive their wealth through one of the two there will be a family context to the assets and their control. A lack of expertise and access to sophisticated investment products are driving uptake of financial advice.

Wealth managers need to understand that decisions regarding investments might not be signed off by the client alone but may require input from other family members. This can be an encumbrance if a quick decision is required, but it is also an opportunity as it should provide a ready pool of potential clients to expand into.

As many Indian wealthy individuals have made their wealth through the IT sector, it is unsurprising that demand for automated services is forecast to rise. Wealth managers should develop digital propositions to attract this tech-savvy client segment and meet their high expectations in terms of financial advice.

Equities are the preferred asset class with execution-only services as the most popular; as economic growth will be strong, demand for equity products will continue to rise.

Critical success factors
- Focus on advisory mandates: The bulk of HNW wealth is held in execution-only mandates, but demand is particularly pronounced for advisory mandates. While demand for all types of asset management services is on the rise, advisory asset management has enduring appeal, and demand for it will outpace other approaches.
- Offer a wide range of investment products: Investors expect their wealth managers to give them access to more complex and sophisticated products. In order to accommodate this need, wealth managers need to develop their area of specialization and prove to their clients that management fees can be offset by higher returns.
- Provide automated services: Indian investors' demand for automated services will rise strongly in the next 12 months. Wealth firms must be able to integrate fintech solutions into their proposition in order to stay competitive.

The report "Wealth in India: HNW Investors 2017", analyzes the Indian investment market, with a focus on the HNW segment.

Specifically the report:
- Sizes the affluent market (both by number of individuals and their demographics) using our proprietary datasets.
- Analyzes which asset classes are favored by Indian investors and how their preferences impact the growth of the total savings and investments market.
- Examines HNW clients' attitudes towards non-liquid investments such as property and commodities.

Companies mentioned in this report: ICICI private banking, UBS, FundsIndia, Paytm, Karvy Private Wealth , Knight Frank.

Scope

- Family business ownership and inheritance are the most important sources of wealth, reflecting the importance family holds in India.
- Execution-only mandates are the preferred means for investing among India's HNW individuals, followed by advisory mandates, which are forecast to experience the greatest increase in demand.
- Equities, property, and bonds have come to dominate HNW portfolios. Allocations in these asset classes are forecast to grow in the next 12 months.
- Pension planning will be the priority for HNW investors, along with financial and tax planning.

Reasons to buy

- Benchmark your share of the Indian wealth market against the current market size.
- Forecast your future growth prospects using our projections for the market to 2020.
- Identify your most promising client segment by analyzing penetration of affluent individuals in India.
- Evaluate your HNW proposition by understanding how the Indian tax system will impact HNW clients.