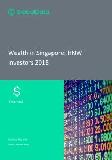 Wealth in Singapore: HNW Investors 2018
May 2018 •
58 pages •
Report ID: 4978307 •
Format: PDF
Wealth in Singapore: HNW Investors 2018

Summary
Singapore's wealth market is highly competitive and established compared to the wider region, where the private banking concept is still relatively new - particularly when considering emerging markets such as the Philippines, Indonesia, and China.Singapore has emerged as a premium private banking hub that caters to the global HNW elite, covering both offshore investors (who figure prominently here), and a substantial resident population that includes a large numbers of expats.

As Southeast Asia's premier financial market, almost all international private wealth managers have operations in the country, meaning it has an unparalleled product and service range within the region but is also the most hotly contested market.

Singaporean HNW individuals have made their fortunes predominantly through earned income, although business owners in one form or another are also significant. The most prominent industries from which HNW individuals have amassed their wealth are financial services and real estate.

At over 13%, the proportion of directors in Singapore who were women in 2017 was at roughly the same level as the proportion of HNW female investors, according to Diversity Action Committee Singapore.Offering dedicated services for female investors will become increasingly important, as efforts are underway to boost the number of high-earning female directors.

Inheriting from spouses (typically from man to woman) along with the rise of more women working at the director level should result in tailored wealth services for women, (such as Miss Kaya) witnessing significantly more demand. All wealth managers need to ensure they are addressing this growing opportunity effectively and in a substantive manner, rather than simply offering pink credit cards.

The report "Wealth in Singapore: HNW Investors 2018", analyzes the investment preferences and portfolio allocation of Singaporean HNW investors. The report is based on our proprietary Global Wealth Managers Survey.

Specifically the report -
- Profiles the average Singaporean HNW investor in terms of their demographics and explores the expat opportunity in Singapore.
- Analyzes which wealth management mandates are preferred among Singaporean HNW investors and how demand will develop going forward.
- Examines the allocation of Singaporean HNW investors' portfolios into different asset classes and how this is expected to develop in the future.
- Analyzes HNW investors' propensity to invest offshore, preferred booking centers, and asset classes, as well as Singapore's standing as an offshore center.
- Analyzes wealth and investment management product and service demand among Singaporean HNW investors.
- Explores consumers who have not yet entered the mass market and identifies how millennials' needs and preferences differ to the mass market and where the opportunities lie in targeting them.

Moreover, this report helps you understand the differing values, behaviors, and insurance needs of customers aged 18-34 compared to the mass market, Improve customer engagement by recognizing what is most important to millennial customers and how insurers can adapt their products and services to meet their needs and this report identifies the leading providers by product within the millennial market and what they offer.

Companies mentioned in this report: DBS, Bank of Singapore, UOB, Credit Suisse, UBS

Scope
- Half of male HNW investors are older than 60, compared to 40% of female investors. This is high for the region.
- Singapore's large expat population is transient, meaning wealth managers must be able to effectively convert them to offshore clients when they leave.
- Wealth managers that reach out to the expat segment with a one-stop service proposition will have an advantage over specialized boutiques.
- After years of waning, commodities and property will grow again in HNW portfolios.
- Offshore wealth is a crucial business line vulnerable to disruption from the rollout of CRS.
- Few providers currently offer impact investing, despite dramatic growth in demand from the next generation of investors.

Reasons to buy
- Develop and enhance your client targeting strategies using our data on HNW profiles and sources of wealth.
- Give your marketing strategies the edge required and capture new clients using insights from our data on HNW investors' preferences for the various styles of asset management.
- Tailor your investment product portfolio to match current and future demand for different asset classes among HNW individuals.
- Develop your proposition to match the product and service demand expressed by Singaporean HNW investors and react proactively to forecasted changes in demand.