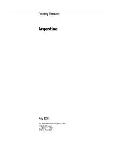 Country Forecast Argentina May 2018
May 2018 •
Report ID: 4978706 •
Format: PDF
Policy towards private enterprise and competition
2018-19: The administration of Mauricio Macri works to address key weaknesses, including weak competition policy, the heavy burden of red tape and restrictive price controls.
2020-22: Continued work to build faith in legal and regulatory frameworks. State participation in key sectors continues.
Policy toward foreign investment
2018-19: Proactive, welcoming approach to foreign investment. Attempts to resolve outstanding disputes with creditors.
2020-22: Foreign direct investment is welcome. Improvement made in investment dispute settlement and availability of investment-protection schemes.
Foreign trade and exchange controls
2018-19: Any remaining foreign-exchange controls are likely to be removed. Continued efforts to improve the workings of Mercosur (the Southern Cone customs union) and develop closer relations with the Pacific Alliance, comprising Chile, Colombia, Mexico and Peru.
2020-22: Possibility that new free-trade agreements are signed.
Taxes
2018-19: Further gradual reductions of export taxes to encourage domestic supply. Tax reforms to promote investment and reduce tax pressure.
2020-22: Comprehensive tax reform to improve federal-provincial revenue sharing a possibility, but obstacles to reform persist. System remains complex, despite recent reforms.
Financing
2018-19: Banking penetration remains weak and long-term credit restricted, particularly for small and medium-sized enterprises, owing to weak long-term deposit base.
2020-22: Non-bank financing grows, but is constrained by a relatively small pool of institutional investors.
The labour market
2018-19: Tension with unions, owing to inflation. Political and bargaining power of unions remains strong.
2020-22: Limited progress on labour reform. Continued potential for conflicts with unions. Some skills shortages.
Infrastructure
2018-19: The Macri administration continues to improve contract rights and deficient regulatory regimes.
2020-22: Some public and private investment set to improve energy supply and upgrade export infrastructure, but the risk of energy shortages will persist as demand grows.
Technological readiness
2018-19: Quality of e-commerce business environment good. Upgrade of 4G capabilities.
2020-22: More progress on increasing scope of e-government as part of process to reduce red tape. Increase in research and development spending as percentage of GDP, but still relatively low compared with more developed markets.