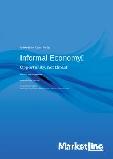 Informal Economy - Opportunity, not threat
July 2017 •
24 pages •
Report ID: 5026448 •
Format: PDF
Informal Economy - Opportunity, not threat

Summary
By some estimates the informal economy is the second largest economy in the world, yet governments have a history of attacking it and failing to realize the opportunities on offer for economic progress. Embracing the opportunities in terms of employment and taxation possible from creating effective regulation would help to formalize the informal economy. Rather than working against it, some companies have struck success by accommodating a different means of doing business. Supporting such a large number of people - be it through employment or utilizing goods and services - working to improve the informal economy is the best outcome, particularly for many developing countries in which the informal economy is notably large

Key Highlights
- Some companies have been able to change how products are sold to meet the needs of the informal economy. MTN, for instance, failed to break into the Nigerian market when attempting to use conventional means; only when mobile phone services were sold to meet the needs of the informal economy was success struck.
- Government crackdowns on the informal economy are bad for national economies. Not only does a large section of the economy fail to achieve its business potential, but cycles of bribery and corruption remain. Furthermore, services which employ vast numbers of people are damaged and those dependent upon them are faced with greater difficulties than normal.
- Some countries are becoming much better at finding means of taxing the informal economy, helping to businesses operating outside of the law closer to a formalized setup. This is the correct approach because of the economic potential the informal economy has.

Scope
- Explores how companies are adapting to the informal economy.
- Explains why bribery is not the problem some governments believe it to be.
- Analyzes policies created to deal with the informal economy
- Seeks to explain the economic significance of the informal economy

Reasons to buy
- How important is the informal economy to the working poor in developing nations?
- What can be done to formalize the informal economy?
- How are governments changing approach to the informal economy?