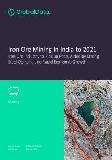 Iron Ore Mining in India to 2021 - Iron Ore Industry to Pick up Pace, Aided by Strong Steel Demand and Rapid Economic Growth
August 2017 •
48 pages •
Report ID: 5094608 •
Format: PDF
Iron Ore Mining in India to 2021 - Iron Ore Industry to Pick up Pace, Aided by Strong Steel Demand and Rapid Economic Growth

Summary
India is endowed with metallic, non-metallic, and atomic minerals, among others. Accounting for 4.8% of global iron ore reserves, the country was the fifth-largest producer as of January 2017. The majority of this is hematite ore, which is predominantly found across the Indian states of Odisha, Jharkhand, and Chhattisgarh.

Since 2010, the Indian iron ore industry has been severely impacted by stringent government rules, especially in Goa and Karnataka. The country's iron ore output saw a major downfall between 2010 and 2013. However, after production limits were revoked, the supply started to recover in 2014. Over the forecast period 2017-2021, India's production is expected to grow at a compound annual growth rate (CAGR) of 4.4%, attributed to the commencement of various iron ore mines and the expansion of existing ones.

During 2016, iron ore consumption in India grew by 1.7% because of a 6.7% increase in the country's crude steel production. During the same year, 98.5% of the iron ore was consumed by the iron and steel industry. The country's demand for iron ore is mainly driven by the domestic steel industry. With robust growth in the country's infrastructural and construction activities, India's iron ore consumption is expected to post a forecast period CAGR of 8.2%.

India imports iron ore from South Africa and Brazil and, in 2016, these two countries together accounted for 97.7% of total iron ore imports. China, on the other hand, is the largest export partner for India, which accounted for 96.9% of the total iron ore exported from the country during the same year. Over the forecast period, the country's iron ore exports are expected to grow at a CAGR of 12%, while imports are expected to post a forecast period CAGR of 0.6%.

Country's mining industry is governed by the Ministry of Mines, the Indian Bureau of Mines (IBM), and the Geological Survey of India (GSI). The Mines and Minerals (Development and Regulation) Amendment Bill 2015, which came into effect on January 12, 2015, and the Mines Act 1952, along with the rules and regulations framed, constitute the basic laws under which the Indian mining sector performs.

The report "Iron Ore Mining in India to 2021 - Iron Ore Industry to Pick up Pace, Aided by Strong Steel Demand and Rapid Economic Growth", contains an overview of the Indian iron ore mining industry together with the key factors affecting the industry and demand for the commodity. Moreover, it provides information about reserves, reserves by grade and state, historic production and production forecast, production by form and state, historic and forecast iron ore consumption and exports vs crude steel production, export and import of iron ore by grade and country, iron ore prices, specification of grades of iron ore lumps and fines at point of export, the competitive landscape and active, exploration and development iron ore projects.

Companies mentioned in this report: National Mineral Development Corporation Ltd, Steel Authority of India Ltd, Vedanta Ltd, Odisha Mining Corporation Ltd

Scope
- Summary of the country's mining industry across various parameters - reserves, production, consumption, trade, competitive landscape, regulatory scenario and the future potential.
- Iron ore production, consumption and trade numbers from 2000-2016 and forecast for next five years to 2021.
- Production split by form and consumption split by end use sectors.
- Policies and regulatory framework governing the industry.
- Company details, including company overview, business description and data on major active, exploration and development iron ore projects.

Reasons to buy
- Gain an understanding of India's iron ore mining industry
- Facilitate decision-making based on strong historic and forecast data
- Obtain the state-wise most up to date information for active, exploration and development iron ore projects.
- Develop strategies based on the latest regulatory events
- Identify various factors affecting the iron ore demand.
- Identify key operating companies' and obtain the business structure, strategy and prospects.