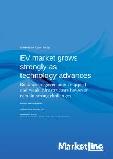 EV market grows strongly as technology advances - Reliance on government support and weak infrastructure however remain strong challenges
November 2017 •
21 pages •
Report ID: 5205126 •
Format: PDF
EV market grows strongly as technology advances - Reliance on government support and weak infrastructure however remain strong challenges

Summary
In July 2017 Volvo announced that from the year 2019 all cars that it manufactures will be either fully electric or hybrids. Volvo would as such become the first large automobile manufacturer to so boldly embrace the electrification of cars, and yet in a fast growing market where brand names like Tesla are increasingly becoming well recognized brands, Volvo's move does not come as a complete surprise.

Key Questions Answered

- How fast is the EV market growing?
- Why is the EV market growing?
- What are the main challenges facing the EV market?
- Does growth in the EV market mean pollution levels will decline?

Scope
- Establishes the pace at which the Electric Vehicle (EV) market is growing.
- Explores why this growth is taking place.
- Analyzes the main challenges facing the EV market.
- Discusses whether the growth in the EV market will have a strong impact on pollution reduction.

Reasons to buy
- In the past several years, the car stock growth of the EV market has consistently been above 50%.
- In March 2017 scientists were able to invent a new battery which has three times the energy density of lithium-ion batteries.
- States have sought to boost the EV market in a number of ways. The UK and France for example have announced a ban on the sale of new fossil fuel powered vehicles from the year 2040 onwards.