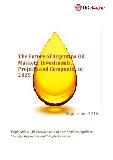 The Future of Argentina Oil Markets, Investments, Projects and Companies to 2025- Exploration, Oil Production, Oil and Product Pipelines, Storage, Refineries and Supply Demand
September 2016 •
103 pages •
Report ID: 5207352 •
Format: PDF
'The future of Argentina Oil industry' from one of the world's leading energy research firm analyses the effect of current global market changes on Argentina oil markets.

Effect of current market dynamics including price fluctuations, CAPEX declines and others on Argentina oil markets-
The impact of recent developments including OPEC decision to cut production at Algiers, US shale oil production decline, Argentina government policy changes and CAPEX reductions on companies across Argentina oil value chain are analysed in detail. The research provides detailed analysis of all major risks and opportunities faced by oil and gas companies in Argentina.

Planning and Strategy Support-
The report identifies key trends and drivers of Argentina oil markets and provides the SWOT profile of the country. Further, the country is benchmarked with peer markets to compare its position in regional markets. In addition, impact of competing assets in other countries is also evaluated.

Short Term Risk Mitigation and Long Term Growth Strategies-
The research work identifies the key moves being taken by government, companies and investors to cop up with global changes and minimize the risks in current market conditions. Further, the research also identifies the strategies being taken by oil and gas players to ensure growth and beat competition in the long run.

Outlook Statements-
- Crude oil supply and demand outlook, 2005- 2025
- Products (Gasoline, Diesel, LPG and Fuel Oil) Supply and demand outlook, 2005- 2025
- Products production and consumption by Fuel, 2015
- Argentina Primary Energy mix, 2015
- GDP, Population and Investment Outlook, 2005- 2025

Analysis across value chain-
The comprehensive research provides opportunities, risks, infrastructure, trade and competition on exploration blocks, licensing rounds, oil fields, storage, products and crude pipelines and refineries in Argentina.

Feasibility study, Current Status and Expected Start Up and Impacts-
For all planned projects including new refineries, storage terminals and pipelines, feasibility study of new projects, their current status including FID/ FEED/EPC along with expected start up, construction contract details and the impact of these projects on Argentina are analysed in detail.

Complete Infrastructure Details -

Argentina oil report provides complete asset by asset details of Argentina oil infrastructure. Key details provided in the research include-
- Exploration- Awarded and Available Block Details, Licensing rounds on Offer, Briefs on Successful Exploration operations, Rigs Count
- Production- Field wise production information from 2007- 2014; Operational and Planned Oil Field details
- Oil, Petroleum Products and Chemicals Storage- Storage Capacity by Terminal, 2005- 2022; Terminal details including- location, start up, operator, owners, stakes, tanks, tank sizes, products stored, mode of transport, capex and construction partners
- Refineries- Refinery wise CDU, Coking, FCC, Hydrocracking, reformer, Hydrotreating, Isomerization capacity outlook, 2005- 2022; Refinery details including- location, start up, operator, owners, equity shares, capex and construction partners
- Pipelines- Crude and Products pipelines including start point, end point, route, length, diameter, capacity, capex and operators and owners and construction partners

Competitive Landscape-

The report provides market shares of each of the sector in Argentina oil markets including-
- Company wise net weighted oil production, 2005- 2014
- Company wise refining, coking, FCC and Hydrocracking capacity, 2005- 2022
- Company wise storage capacity, 2005- 2022
- Company wise Pipeline Lengths, 2015
The report also analyses three leading companies in Argentina oil markets. Business operations, SWOT Analysis and financial performance of the companies are provided.

Recent Industry Developments-
All latest developments in the industry along with their possible impact on the industry are included in the report.