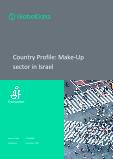 Country Profile: Make-Up sector in Israel
December 2017 •
72 pages •
Report ID: 5291892 •
Format: PDF
Country Profile: Make-Up sector in Israel

Summary
Israeli Make-Up sector accounted for a volume share of about 0.2% of the global market and about 12% of the regional (Middle East & Africa) market, in 2016. The sector was valued at over US$177 Millionin 2016 and is expected to grow at a CAGR of about 3.5% during 2016-2021. The sector is driven by increasing purchasing power of Israelis and growing domestic cosmetics industry. Per capita consumption stood at over 1.9 units compared to the global and Middle East & African levels of 1.08 units and 0.65 units, respectively, in 2016.

Face Make-Up was the largest with value sales of over US$60.8 Million in 2016. It is also expected to grow the fastest at a CAGR of around 4.2% compared to Eye Make-Up , Nail Make-Up or Lip Make-Up, each of which are estimated to grow at a CAGR of around 3.5% each.

Hypermarkets & Supermarkets was the leading distribution channel in the Israeli Make-Up sector, accounting for a total value share of over 37% in 2016. It was followed by Health & Beauty Stores and Department Stores with shares of about 33% and 11%, respectively, in the same year.

In 2016, Rigid Plastics was the most commonly used package material in the Israeli Make-Up sector. It accounted for a share of more than 72%, followed by Glass and Flexible Packaging with shares of about 24% and 2%, respectively.

Revlon is the leading brand in the Israeli Make-Up sector. It held a value share of over 14% in 2016, while the top five brands accounted for more than 55% value share in the same year.

The report "Country Profile: Make-Up sector in Israel", provides insights on high growth markets to target, trends in the usage of packaging materials, category level distribution channel data and market share of brands.

In particular, this report provides the following -
- Market data: Overall market value and volume data with growth analysis for 2011-2021.
- Category coverage: Value and growth analysis for Eye Make-Up, Face Make-Up, Nail Make-Up, and Lip Make-Up with inputs on individual category share within each market and the change in their market share forecast for 2016-2021.
- Leading players: Market share of brands and private labels, including private label growth analysis from 2011-2016.
- Distribution data: Percentage of sales within each market through distribution channels such as Hypermarkets & Supermarkets, Health & Beauty Stores, Department Stores, Drug Stores & Pharmacies, and others.
- Packaging data: consumption breakdown for package materials and pack types in each market, in terms of percentage share of number of units sold. Package material data for Glass, Rigid Plastics, Paper & Board, Flexible Packaging, and others; pack type data for: Specialty Container, Tube, Jar and Tub.

Companies mentioned in this report: Revlon, Inc., L`Oreal S.A., Ever Bilena Cosmetics, Inc., Micys Company S.P.A., Rudolph International, Inc., The Estee Lauder Companies Inc., Chanel S.A., Chic Centre Corporation, LVMH Moet Hennessy - Louis Vuitton, Shiseido Company, Limited

Scope
- The Make-Up sector in Israel accounted for 12.8% volume share in the Middle East & African region in 2016
- The Make-Up sector in Israel is forecast to grow at 3.8% CAGR, in value terms, during 2016-2021
- The Face Make-Up market is forecast to register the fastest growth during 2016-2021
- Per capita consumption of Make-Up products across, all the markets, is higher in Israel compared to global and regional levels
- Eye Make-Up is the largest market in value and volume terms in the Hungarian Make-Up sector

Reasons to buy
- Identify high potential categories and explore further market opportunities based on detailed value and volume analysis
- Existing and new players can analyze key distribution channels to identify and evaluate trends and opportunities
- Gain an understanding of the total competitive landscape based on detailed brand share analysis to plan effective market positioning
- Access the key and most influential consumer trends driving Make-Up consumption, and how they influence consumer behavior in the market which will help determine the best audiences to target
- Our team of analysts have placed a significant emphasis on changes expected in the market that will provide a clear picture of the opportunities that can be tapped over the next five years, resulting in revenue expansion
- The packaging analysis report helps manufacturers; in identifying the most commonly used packaging materials in the sector
- Analysis on key macro-economic indicators such as GDP per capita, population (overall and breakdown by age), and consumer price index. It also covers a comparative analysis of political, economic, socio-demographic, and technological indicators (PEST) across 50 countries.