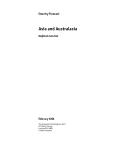 Country Forecast Asia February 2018
February 2018 •
Report ID: 5345118 •
Format: PDF
Political stability
The Economist Intelligence Unit expects Asia's political scene over the forecast period (2018-22) to be dominated by China's president, Xi Jinping, and India's prime minister, Narendra Modi. Both are the most dominant leaders of their countries in decades and will retain power throughout the next five years. Japan's prime minister, Shinzo Abe, should also remain in office until at least 2021, having secured re-election in October 2017. Indonesia poses the biggest question mark among the "big four" economies, as the president, Joko Widodo, looks set to face a tight election in 2019. Elsewhere, the Liberal-National government in Australia is one of the few set to lose power in the forecast period, although this is partly because elections in many other places, such as Malaysia and Cambodia, will not be fair. The leadership vacuum of the US in Asia under its president, Donald Trump, will have major ramifications for the delicate balance of power in Asia. China will increase its influence in the region, but its territorial disputes will weigh on diplomatic ties.
Economic outlook
We forecast that real GDP in Asia and Australasia will grow by an average of 4.1% a year in 2018-22, compared with 4.3% in 2013-17. The outlook is broadly positive across the region, despite an anticipated mild slowdown. Growth will be underpinned by solid economic expansions in China and India. Despite its deep structural constraints, Japan's economy will also achieve its longest streak of economic growth since the 1980s. South Asia will be the fastest-growing sub-region, although this will be from a relatively low base. Growth in the Association of South-East Asian Nations (ASEAN) will maintain a steady pace of expansion in 2018-22.
Business environment rankings
The divide between the business environment in the best-performing countries in Asia (such as Singapore) and the worst (such as Pakistan) will remain huge. Vietnam and Indonesia will make the most progress in enhancing their business environments in 2018-22, and will surpass China in our rankings. India's business environment will also improve noticeably as infrastructure investment rises and foreign-investment regulations are liberalised. Free-trade agreements between several countries in the region will help to reduce barriers to trade and investment. The ASEAN Economic Community will also promote integration in South-east Asia, although the implementation of pending policy initiatives under the bloc will remain uneven.