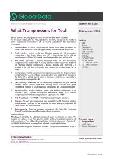 Trump and Tech - Global Thematic Research
November 2016 •
12 pages •
Report ID: 5353579 •
Format: PDF
Trump and Tech - Global Thematic Research

Summary
As the dust settles after the US presidential election, we look at the medium-term investment implications of a Trump presidency for technology companies.

Taxation: Most US tech companies will benefit from lower tax rates, but some - like Amazon - may be aggressively pursued for tax avoidance.

Trade tariffs: Import tariffs on Chinese goods will hit technology companies - like Apple, Cisco and HP - who design in the US but manufacture in China. US-based manufacturers like Intel will benefit.

Inside this report, we look at what a Trump presidency might mean for the clean energy, social media and cybersecurity sectors.

Scope
- This report is part of our ecosystem of thematic investment research reports, supported by our "thematic engine".
- About our Thematic Research Ecosystem
- GlobalData has developed a unique thematic methodology for valuing technology, media and telecom companies based on their relative strength in the big investment themes that are impacting their industry. Whilst most investment research is underpinned by backwards looking company valuation models, GlobalData's thematic methodology identifies which companies are best placed to succeed in a future filled with multiple disruptive threats.

To do this, GlobalData tracks the performance of the top 600 technology, media and telecom stocks against the 50 most important themes driving their earnings, generating 30,000 thematic scores. The algorithms in GlobalData's "thematic engine" help to clearly identify the winners and losers within the TMT sector. Our 600 TMT stocks are categorised into 18 sectors.

Each sector scorecard has a thematic screen, a risk screen and a valuation screen. Our thematic research ecosystem has a three-tiered reporting structure: single theme, multi-theme and sector scorecard. This report is a Single Theme report, offering in-depth research into a specific theme. It identifies winners and losers based on technology leadership, market position and other factors.

Reasons to buy
- Our thematic investment research product, supported by our thematic engine, is aimed at senior (C-Suite) executives in the corporate world as well as institutional investors.
- Corporations: Helps CEOs in all industries understand the disruptive threats to their competitive landscape
- Investors: Helps fund managers focus their time on the most interesting investment opportunities in global TMT.
- Our unique differentiator, compared to all our rival thematic research houses, is that our thematic engine has a proven track record of predicting winners and losers.