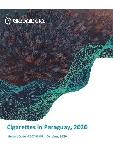 Cigarettes in Paraguay, 2020
October 2020 •
42 pages •
Report ID: 5637847 •
Format: PDF
Cigarettes in Paraguay, 2020

Summary
Cigarettes in Paraguay, 2020 is an analytical report that provides extensive and highly detailed current and future market trends in the tobacco market in Paraguay.It covers market size and structure along with per capita and overall consumption.

Additionally, it focuses on brand data, retail pricing, prospects, and forecasts for sales and consumption until 2030.

Legitimate, domestic duty-paid consumption is forecast at 3,800 million pieces in 2019, but overall legitimate industry sales in Paraguay, including sales destined for parallel export, are estimated at nearer 30 billion pieces. Tabesa leads the market with an estimated 53.5% in 2019, followed by PMI with 24% and BAT with 20%. The analyst estimates that there were 995,000 smokers in Paraguay in 2019. Of these, 27.4% of men are smokers compared to 11.4% of women.

Scope
- A fall to 3,900 million pieces is estimated for 2018 as the impact of this tax raised prices with a further decline to 3,800 million pieces forecasted for 2019 as a result of a further increase in ad valorem tax.
- Uruguay accounting for 37.1% of the total in 2018. Chile took second place with 23.8% in 2018 while Indonesia was in third place (14.9%) and Argentina fourth (10.2%).
- Sales are ultimately forecast at 3,930 million pieces in 2030. With a rising population, per capita consumption rates are expected to be down 1.5% on 2020 at 493 pieces in 2030.

Reasons to Buy
- Get a detailed understanding of consumption to align your sales and marketing efforts with the latest trends in the market.
- Identify the areas of growth and opportunities, which will aid effective marketing planning.
- The differing growth rates in regional product sales drive fundamental shifts in the market.
- This report provides detailed, authoritative data on these changes - prime intelligence for marketers.
- Understand the market dynamics and essential data to benchmark your position and to identify where to compete in the future.