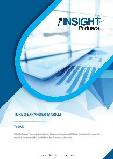 Turbo Expanders Market to 2027 - Global Analysis and Forecasts by Loading Device; Application; and End-User
January 2019 •
140 pages •
Report ID: 5751946 •
Format: PDF
The global turbo expanders market is expected to grow to US$ 570.08 Mn by 2027 from US$ 302.05 Mn in 2017, growing at a CAGR of 6.69%. Turbo expanders are also known as expansion turbines, which provide a way to capture the energy lost in natural gas refineries and facilities. Turbo-expanders have a range of applications including air separation plants, power utilities, chemical and petrochemical plants, and LNG applications. Continuous emphasis on energy efficiency/ energy recovery and the decrease of CO2 emissions, along with higher demand for service and monitoring of compressed air installations, and emerging applications of the expander in new industrial segments are some the major market trends that will drive the turbo expanders market in the near future. Whereas, some of the promising opportunities for the turbo expanders market are growing investments in automation and machinery, industrial production and energy costs.

Hydrocarbon turbo-expanders are larger in size and deliver a power output ranging from 1,600 KW to 20,000 KW.Hydrocarbons are useful for liquefaction of natural gases, liquefaction of petroleum gases, FPSO LNG, nitrogen rejection, dew point control, and regasification.

The EU is the world's second largest producer for products derived from petroleum and constitutes 16% of the total global oil refining capacity.Further, despite the vision related to decarbonisation of the economy in the European region, gas and coal have remained vital fuel sources for thermal electricity generation in Europe.

Shale gas and other hydrocarbon extractions are also carried out across European countries and measures are being taken by the regulatory bodies with regards to the minimal impacts on the environment caused due to the extraction processes by the oil & gas industry.

The turbo expanders market has been segmented on the basis of loading device, application, and end-user.On the basis of loading device, the turbo expanders market has been divided into compressor, generator, and oil brake.

Further, the applications segment of turbo expanders market includes hydrocarbon, air separation, and others.Based on the end-user, the market is segmented into oil & gas, power generation, and industrial market.

Geographically, the turbo expanders market is currently dominated by North America and Asia Pacific owing to economically advanced economies, developed infrastructure, and the presence of large oil reserves in the region.Also, support for upcoming technological trends has further favored high growth of turbo expander products in both regions.

Globally turbo expanders market is expected to foresee a significant rise in terms of revenue share. However, North American region is anticipated to be a saturated market by losing a fair amount of market share during the forecast period, which in turn is expected to lose its dominance to Asia Pacific region.

The overall turbo expanders market size has been derived using both primary and secondary source.The research process begins with exhaustive secondary research using internal and external sources to obtain qualitative and quantitative information related to the turbo expanders market.

It also provides the overview and forecast for the global turbo expanders market based on all the segmentation provided with respect to five major reasons such as North America, Europe, Asia-Pacific, the Middle East and Africa, and South America.Also, the primary interviews were conducted with industry participants and commentators in order to validate data and analysis.

The participants who typically take part in such a process include industry expert such as VPs, business development managers, market intelligence managers and national sales managers, and external consultant such as valuation experts, research analysts and key opinion leaders specializing in the turbo expanders industry.

Reasons to Buy
Highlights key business priorities in order to assist companies to realign their business strategies.
The key findings and recommendations highlight crucial progressive industry trends in the turbo expander market, thereby allowing players to develop effective long term strategies.
Develop/modify business expansion plans by using substantial growth offering in developed and emerging markets.
Scrutinize in-depth global market trends and outlook coupled with the factors driving the market, as well as those hindering it.
Enhance the decision-making process by understanding the strategies that underpin commercial interest with respect to segmentations like loading device, application, and end user.