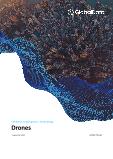 Drones - Thematic Research
February 2019 •
40 pages •
Report ID: 5759603 •
Format: PDF
Drones - Thematic Research

Summary
New restrictions on drone usage, announced 20 February 2019 by the UK government due to the disruption caused at UK airports last Christmas brought the use of drones into the public eye, are part of a ramp-up of regulatory pressure around the world which could hold back adoption of drone technology.

The enthusiastic adoption of drone technology by both individuals and enterprises faces regulatory barriers in many countries, driven by a combination of security and safety concerns.However, compelled by industrial demand, several governments are gradually undertaking regulatory reforms relating to the use of drones in commercial airspaces.

This, in turn, is fueling investment for technological improvements and business prospects.

As regulations mature, drones as a service (DaaS) providers are poised to take advantage of opportunities to offer industry-specific solutions, with interest growing in a number of domains including drone delivery, drone-based internet services, disaster response, and medical assistance.

The growing volume of data gathered by drones will also create demand for increasingly sophisticated analysis of that data, with leading artificial intelligence (AI) players such as Microsoft, IBM, Google, Alibaba, Intel and Amazon all gearing up to establish themselves in the drones market.

The latest thematic research report, "Drones - Thematic Research", states that the market for the civilian use of drones, both as recreational devices and in commercial applications, has steadily opened up over the last few years. However, regulation is increasingly getting in the way of adoption.

Scope
- This report provides an overview of the global drones market.
- It identifies the key trends driving growth in the drones industry.
- It provides a global market size and growth forecasts and identifies the leading players in the drones market.
- It includes analysis of the key technologies within drones, including discussion of major innovations.

Reasons to buy
- This report highlights the key trends impacting the drones market.
- It determines which companies are best positioned to succeed in a future filled with disruptive threats.
- It provides a look into the growth potential of the sector, and identifies recent technological developments and upcoming areas of interest.