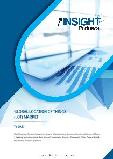 Location of Things Market to 2027 - Global Analysis and Forecasts by Application ; and Industry Vertical
March 2019 •
141 pages •
Report ID: 5764212 •
Format: PDF
The global Location of Things (LoT) market was valued at US$ 19.10 Bn in 2018 and is expected to grow at a CAGR of 24.5% during the forecast period 2019 - 2027, and reach US$ 128.75 Bn in 2027. Development of internet infrastructure and IoT in recent years is primarily driven due to the need for energy efficient communications network infrastructure, and proliferation of IoT and connected devices. Such a prominent growth of IoT is projected to propel the Location of Things (LoT) market in the coming years.

Location Intelligence integrates geographical dimensions with the existing data from business intelligence applications.It allows an ability to visualize numerous metrics on the map.

The location-based data enables organizations to determine new competitive advantage and insights.The savvy enterprises incorporate information about the location and geography in their data, which later allows them to utilize geospatial data to assist business intelligence.

In addition, location technology assists in changing business and industries. Application of IoT, big data, advanced analytics in real problems is proven to be an effective solution.

LoT is used to create a new ecosystem for both business and organizations.The lot is gaining high momentum in diversified industry verticals at a large scale particularly in transportation & logistics, government & utilities, and retail industry.

Furthermore, rising smartphone penetrations, increase in the number of devices connected over the internet has resulted in an explosion of data.Therefore, continuous modifications in internet application ask for a location which results in generation of a large amount of data.

The huge amount of data needs scrutiny and analysis for further decision making process by the industry players. Location of things targets a large number of sectors and, through society's digital transformation, is expected to contribute to countries' economic growth.

The most prominent region in global Location of Things (LoT) market in 2018 accounted for North America, followed by Asia Pacific and Europe.South America, and Middle East & Africa held the fourth and fifth position in terms of market shares in Location of Things (LoT) market.

Also, Asia Pacific is anticipated to witness the highest CAGR during the forecast period.Pertaining to the presence of massive and tech-savvy population, the penetration of smartphones is rising in the Asian market.

Also, the huge mass of the region plays a crucial role in accelerating retail and logistics industry in which location-based data/services holds a significant position.

The overall Location of Things (LoT) market size has been derived using both primary and secondary source.The research process begins with exhaustive secondary research using internal and external sources to obtain qualitative and quantitative information related to the Location of Things (LoT) market.

It also provides the overview and forecast for the global Location of Things (LoT) market based on all the segmentation provided with respect to five major reasons such as North America, Europe, Asia-Pacific, Middle East & Africa, and South America.Also, primary interviews were conducted with industry participants and commentators in order to validate data and analysis.

The participants who typically take part in such a process include industry expert such as VPs, business development managers, market intelligence managers, and national sales managers, and external consultants such as valuation experts, research analysts, and key opinion leaders specializing in the Location of Things (LoT) industry. The major companies operating in the Location of Things (LoT) market globally includes Google, Inc., IBM Corporation, Microsoft Corporation, ESRI, Qualcomm Technologies, Inc., Here Technologies, Navizon, Inc., Skyhook, Wireless Logic, and Trimble, Inc. among others.

Reasons to Buy
Highlights key business priorities in order to assist companies to realign their business strategies.
The key findings and recommendations highlight crucial progressive industry trends in the Location of Things (LoT) market, thereby allowing players to develop effective long term strategies.
Develop/modify business expansion plans by using substantial growth offering developed and emerging markets.
Scrutinize in-depth global market trends and outlook coupled with the factors driving the market, as well as those hindering it.
Enhance the decision-making process by understanding the strategies that underpin commercial interest with respect to products, segmentation and industry verticals.