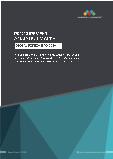 Procurement Analytics Market by Component, Application Area, Deployment Type, Organization Size, Vertical And Region - Global Forecast to 2023
April 2019 •
139 pages •
Report ID: 5767386 •
Format: PDF
Increasing focus on enhancing procurement channels' operational efficiencies to drive the procurement analytics market
The global procurement analytics market size is expected to grow from USD 1.6 billion in 2018 to USD 4.1 billion by 2023, at a Compound Annual Growth Rate (CAGR) of 20.4% during the forecast period. Growth factors for the market include organizations' increasing focus on enhancing the operational efficiencies of their procurement channels and their imminent need to handle compliance polices and contracts. However, lack of analytical expertise and employees' reluctance to adopt advanced analytical technologies may affect the market growth.

Services segment to grow at a higher CAGR during the forecast period
The procurement analytics market by service includes professional and managed services.Further, professional services have been classified into consulting, training and education, integration and deployment and support and maintenance services.

These services help clients understand their procurement related processes effectively.The solution segment is expected to hold a larger market size during the forecast period.

The procurement analytics solutions are being deployed by many Small and Medium-sized Enterprises (SMEs) for supplier and market intelligence, and to keep company expenditures to a minimum without affecting operations.

Increasing deployment of cloud-based procurement analytics solutions in SMEs to drive the market during the forecast period
The SMEs segment is expected to grow at a higher CAGR, owing to the increasing adoption of pay-as-you-go model to manage IT infrastructure as per their requirements.SMEs are concerned about the expenditures of deploying on-premises procurement analytics solutions and contracting skilled staff, and IT teams for their maintenance and hence are leaning towards cloud-based analytical solutions for improving their profit margins and efficiencies.

Though SMEs are small in terms of their size, they cater to a large number of customers globally.Limited budgets make the SMEs more susceptible to revenue losses due to high spending, irregular procurement channels, and improper supply chain management.

However, organizations' struggle to sustain their position in the competitive environment and their increasing focus on enhancing procurement channels' operational efficiencies will drive the demand for procurement analytics solutions among SMEs. These solutions not only enhance the procurement channels of SMEs but also enable them to make strategic decisions regarding their inventory, spend, and supply chain and to comply with regulations by ensuring customer data protection as well as organization data protection from data thefts.

Asia Pacific (APAC) to grow at the highest CAGR during the forecast period
APAC includes major economies, such as India, China, Australia, Hong Kong, and Japan, which are rapidly deploying the procurement analytics solution.APAC is expected to grow at the highest CAGR during the forecast period.

The APAC procurement analytics market is gaining traction, as the region is witnessing an increasing demand for cloud-driven analytical solutions, resulting in higher investments and technological advancements in various industry verticals.SMEs as well as large organizations in the APAC region have become more aware of procurement analytics solutions and services and started adopting them to enhance their supply chain, organization spend, reporting and other procurement processes.

Furthermore, North America is estimated to hold the largest market size in 2018 owing to the presence of a large number of vendors and initial adoption of procurement analytics solutions and services due to stringent laws and policies for safeguarding data in the procurement channels and to thrive in the market by increasing productivity.

In-depth interviews were conducted with CEOs, marketing directors, innovation and technology directors, and executives from various key organizations operating in the procurement analytics market.
• By Company Type: Tier 1: 35%, Tier 2: 45%, and Tier 3: 20%
• By Designation: C-Level: 35%, Director Level: 25%, and Others: 40%
• By Region: North America: 45%, Europe: 20%, APAC: 30%, and RoW: 5%

The report includes the study of key players, such as SAP (Germany), Oracle (US), SAS (US), IBM (US, Coupa Software (US), Zycus(US), BRIDGEi2i Analytics (India), JAGGAER (US), Rosslyn Data Technologies (England), Genpact (UK), Tamr (US), Simfoni (US), BirchStreet (US), Proactis (UK), and Sievo (Finland).

Research Coverage:
The report covers the procurement analytics solutions and services across segments.It aims at estimating the market size and growth potential of the market across segments, such as components, application areas, organization size, deployment type, verticals, and regions.

The report also includes an in-depth competitive analysis of the key players in the market, along with their company profiles, product and business offerings, recent developments, and key market strategies.

Key Benefits of Buying the Report:
The report would help the market leaders/new entrants in the market with information about the closest approximations of the revenue numbers for the overall procurement analytics market and its subsegments.It would help stakeholders understand the competitive landscape and gain more insights to better their positions and plan suitable go-to-market strategies.

It also helps stakeholders understand the pulse of the market and provides them with information about key market drivers, restraints, challenges, and opportunities.