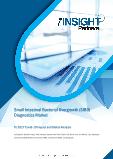 Small Intestinal Bacterial Overgrowth Diagnostics Market Forecast to 2028 - COVID-19 Impact and Global Analysis By Diagnosis ; Type, and Geography
March 2021 •
174 pages •
Report ID: 6063413 •
Format: PDF
The global SIBO diagnostics market is expected to reach US$ 194,604.51 thousand by 2028 from US$ 138,324.23 thousand in 2020. It is estimated to grow at a CAGR of 4.4% from 2021 to 2028.

Initially, jejunal aspiration and duodenal fluid analyses were used to diagnose SIBO.Due to the invasiveness of jejunal aspirates' and duodenal fluids analyses, these were replaced by a breath test.

The breath test is a non-invasive, patient-friendly, and simple method for SBIO diagnosis.In addition, cost-effectiveness has increased the adoption of a breath test in clinical practice.

For instance, the cost of a breath test ranges from US$ 145 to US$ 400 depending upon the healthcare provider and insurance policy.

Hydrogen breath tests for carbohydrate malabsorption, and lactulose and glucose hydrogen breath tests for bacterial growth are the widely used breath tests.Of these, the lactulose hydrogen breath test is less specific than the glucose hydrogen breath test.

According to a study, 'Breath Tests for the Non-invasive Diagnosis of Small Intestinal Bacterial Overgrowth: A Systematic Review with Meta-analysis,' published in January 2020, glucose hydrogen breath test has a sensitivity of 58% and specificity of 83%, compared with 42% sensitivity and specificity of 70% for lactulose hydrogen breath test.
These tests are also widely used to detect other digestive disorders, including intestinal methanogen overgrowth (IMO), abnormal digestion of dietary sugars, and rapid small bowel transit time.Moreover, these tests help in diagnosing IBS by identifying primitive hypersensitivity.

Thus, owing to the benefits, breath tests are likely to propel the growth of market during the forecast period.

Based on diagnosis, the SIBO diagnostics market is segmented into breath testing, small intestine aspirate and fluid culture test, blood test, and others.In 2020, the breath testing segment held the largest share of the market and is expected to grow at the fastest rate during the coming years.

The growth is attributed due to its advantages, such as non-invasive, patient-friendly, simplicity, and low-cost.

Based on type, the SIBO diagnostics market is segmented into hydrogen-predominant SIBO, methane-predominant SIBO, and recurrent SIBO. In 2020, the hydrogen-predominant SIBO segment held the largest share of the market and the same segment is expected to grow at the fastest rate during the coming years.

Major primary and secondary sources referred to while preparing the report on the single-use negative pressure wound therapy devices market are Asthma and Allergy Foundation of America, Australian Society of Clinical Immunology and Allergy, Argentinean Allergen Immunotherapy, and European Academy of Allergy and Clinical Immunology, among others.