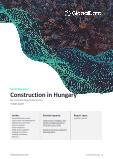 Construction in Hungary - Key Trends and Opportunities to 2025 (H1 2021)
April 2021 •
49 pages •
Report ID: 6066587 •
Format: PDF
Construction in Hungary - Key Trends and Opportunities to 2025 (H1 2021)

Summary
The Hungarian construction industry recorded an average annual growth rate of 16.5% between 2017-2019; however, growth started tapering off in the second half of 2019, with an average quarterly growth of 6.9% in Q3 and Q4 2019. The Coronavirus (COVID-19) outbreak, coupled with the lockdown restrictions imposed by the government, further weakened the country's construction industry, with projects being delayed and affected due to labor shortages owing to travel restrictions and social distancing measures. The industry declined by 9.4% in 2020, down from a growth of 13% in 2019. According to the Hungarian Central Statistical Office (KSH), the construction industry's value-add declined by 3.9% year on year (YoY) in Q4, and this was preceded by Y-o-Y declines of 17.9% in Q3, 12.9% in Q2, and a growth of 1.5% in Q1 2020.

The analyst expects the construction industry to recover and register a growth of 5.7% in 2021 and grow at an annual average growth of 4.8% between 2022 and 2025, supported by public investments in the transport, renewable energy, and manufacturing sectors. Hungary is also set to receive support from the European Union (EU) under the EUR750 billion (US$861.1 billion) Next Generation EU recovery plan, as well as the EUR1.1 trillion (US$1.3 trillion) multiannual financial framework (MFF) for 2021-2027 - this will support investment in the infrastructure, energy and utilities and institutional sectors.

The government plans to increase solar capacity from the current 2GW to 3GW by 2022, and further to 6GW by 2030, increasing the share of renewables in electricity generation from 20% by 2030 to 30% by 2040. Furthermore, with an investment of HUF2 trillion (US$6.2 billion), the government plans to upgrade the rail network in Budapest region by establishing new stations and connections between them, and modernizing carriages in the coming 20 years to double the number of railway passengers. Moreover, in early January 2021, the Innovation and Technology Ministry announced plans to renovate 1,000km of roads with a total cost of HUF190 billion (US$591.5 million) across the country in 2021.

This report provides detailed market analysis, information, and insights into the Hungarian construction industry, including -
- The Hungarian construction industry's growth prospects by market, project type and construction activity
- Critical insight into the impact of industry trends and issues, as well as an analysis of key risks and opportunities in the Hungarian construction industry
- Analysis of the mega-project pipeline, focusing on development stages and participants, in addition to listings of major projects in the pipeline.

Scope
This report provides a comprehensive analysis of the construction industry in Hungary.

It provides -
- Historical (2016-2020) and forecast (2021-2025) valuations of the construction industry in Hungary, featuring details of key growth drivers.
- Segmentation by sector (commercial, industrial, infrastructure, energy and utilities, institutional and residential) and by sub-sector
- Analysis of the mega-project pipeline, including breakdowns by development stage across all sectors, and projected spending on projects in the existing pipeline.
- Listings of major projects, in addition to details of leading contractors and consultants

Reasons to Buy
- Identify and evaluate market opportunities using standardized valuation and forecasting methodologies.
- Assess market growth potential at a micro-level with over 600 time-series data forecasts.
- Understand the latest industry and market trends.
- Formulate and validate strategy using critical and actionable insight.
- Assess business risks, including cost, regulatory and competitive pressures.
- Evaluate competitive risk and success factors.