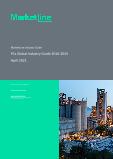 Personal Computers (PCs) Global Industry Guide - Market Summary, Competitive Analysis and Forecast to 2025
April 2021 •
196 pages •
Report ID: 6074944 •
Format: PDF
Personal Computers (PCs) Global Industry Guide - Market Summary, Competitive Analysis and Forecast to 2025

Summary
Global PCs industry profile provides top-line qualitative and quantitative summary information including: market size (value and volume 2016-20, and forecast to 2025). The profile also contains descriptions of the leading players including key financial metrics and analysis of competitive pressures within the market.

Key Highlights
- The personal computers (PCs) market consists of the sales of both desktop and portable PCs.
- The desktop PCs segment is defined as including all-in-one desktop personal computers that include all associated devices for an independent and stand-alone client-server relationship and stand-alone desktop PC towers with varying capacity, performance and physical size.
- The portable PCs segment is defined as including all notebook, laptop and tablet computers.
- Market value covers sales of all consumer and enterprise PCs, valued at manufacturer selling prices including all applicable taxes.
- Market volumes are a measure of how many homes have PCs within the region in question.
- Any currency conversions used in the creation of this report have been calculated using 2020 annual average exchange rates.COVID-19: The assumption has been made that after the pandemic is over the global economy will gradually go back to the levels recorded before. It is also assumed that there is no widespread economic crisis as seen in 2008 due to announced financial support packages from governments around the world. At the time of the preparation of this report, the economic implications of national and local lockdowns of many economies are difficult to predict as there is no indication how long the pandemic will last, nor how many industries will be forced to stay closed and the scale of the governmental aid involved.
- The global PCs market had total revenues of $89.4bn in 2020, representing a compound annual rate of change (CARC) of 1.6% between 2016 and 2020.
- The PCs market is highly correlated with technology and the financial power of consumers.
- The COVID-19 pandemic has forced millions of people to self-isolate and stay indoors, driving demand for PCs to new highs.

Scope
- Save time carrying out entry-level research by identifying the size, growth, major segments, and leading players in the global PCs market
- Use the Five Forces analysis to determine the competitive intensity and therefore attractiveness of the global PCs market
- Leading company profiles reveal details of key PCs market players' global operations and financial performance
- Add weight to presentations and pitches by understanding the future growth prospects of the global PCs market with five year forecasts by both value and volume

Reasons to Buy
- What was the size of the global PCs market by value in 2020?
- What will be the size of the global PCs market in 2025?
- What factors are affecting the strength of competition in the global PCs market?
- How has the market performed over the last five years?
- What are the main segments that make up the global PCs market?