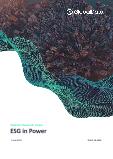 ESG (Environmental, Social, and Governance) in Power - Thematic Research
July 2021 •
40 pages •
Report ID: 6107048 •
Format: PDF
ESG (Environmental, Social, and Governance) in Power - Thematic Research

Summary
Managing environmental, social, and governance (ESG) issues is critical for power companies in 2021. Not only are investors, customers, and other stakeholders demanding lower carbon emissions, but companies that are not taking a holistic approach to sustainability will also fall behind.

Events in 2021 have shown that those power companies without a credible ESG plan wil face a backlash in the courts, boardrooms, and the public arena.This trend will intensify in the coming decade.

Power companies bear much responsibility for climate change and its resulting social effects. Those that can prove they are doing something about it - not just greenwashing - will emerge as leaders.

Investment in renewable, low-carbon generation methods has become much easier due to significant reductions in price, especially in offshore wind.Leaders in the power industry are reducing exposure to fossil fuel generation and replacing it with low carbon sources.

At the consumer level, individuals now want to power their homes and businesses with renewable power. Not only does renewable generation improve sustainability credentials, but it is also beginning to improve revenues.

As power companies scramble to reduce emissions, attention must be paid to social and governance issues too.Any company failing in these categories will severely damage its ESG credentials.

For instance, lax workplace safety measures or weak cybersecurity protocols are not hallmarks of a sustainable company and repel confidence and investment.

Scope
- ESG framework which contains contributing factors to environmental, social and governance issues, with mitigating actions for each issue.
- Technology and macroeconomic trends in the power industry. Certain technologies are enabling power companies to improve their ESG credentials and macroeconomic forces are compelling them to rethink ESG strategy.
- ESG action feedback loop describes how stakeholders are demanding action on ESG and the effect this has on company disclosures.
- ESG challenges currently faced by those in the power industry and how companies can address them.
- Case studies on ESG leaders and laggards in the power industry.
- Detailed assessment of leading power companies and their competitive positions in the ESG theme.

Reasons to Buy
- Develop long term ESG strategies by identifying your company's contributing factors then employing our reccommended mitigating actions.
- Protect against risk by exploring ESG challenges in the power sector, equipping your company with the knowledge of how to combat future ESG tests.
- Identify current leaders in the power industry. Use this report's assessment of current players in the power indutry to inform potential investments or partnerships.
- Avoid ESG failures and follow in the footsteps of ESG leaders by incorporating our case studies into your strategy.
- Benchmark your company against competitors and justify key areas of investment by using thematic scorecard, which ranks the top 40 power companies globally on the 10 most important industry themes.