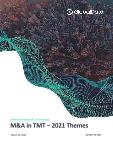 Mergers and Acquisitions (M&A) in Tech, Media, and Telecom (TMT) 2021 Themes - Thematic Research
March 2022 •
69 pages •
Report ID: 6124091 •
Format: PDF
Mergers and Acquisitions (M&A) in Tech, Media, and Telecom (TMT) 2021 Themes - Thematic Research

Summary
If you want to understand the themes that drive an industry, simply look at the list of recent mergers and acquisitions (M&A). This report analyzes the disruptive themes that drove M&A activity across the technology, media, and telecoms (TMT) industry in 2021.

Key Highlights
- Despite the global pandemic, total M&A deal value in the global technology, media, and telecom (TMT) sector reached $1 trillion in 2021, up 30% from 2020. The total number of deals in 2021 reached 996, up 44% from 2020. A significant amount of M&A activity was driven by the growing popularity of SPACs (special purpose acquisition companies) in 2021. This helped to make 2021 the highest for deal value over the last five years.
- The big themes driving the top 100 TMT M&A deals by deal value announced in 2021 were connectivity and internet TV, accounting for $136 billion and $70 billion, respectively.
- The big connectivity deals were Kohlberg Kravis Roberts (KKR)'s acquisition of Telecom Italia (TIM) for $37.2 billion and the acquisition of Shaw Communications by Rogers Communications for $20.8 billion. The most notable internet TV deal was the combination of WarnerMedia's entertainment, sports, and news assets with Discovery. The other big thematic drivers were fintech, cybersecurity, healthtech, big data, artificial intelligence (AI), and cloud.

Scope
- This report provides an overview of merger and acquisition activity in the global TMT market in 2021.
- It identifies the M&A deals announced in the TMT market between January 1, 2017 and December 31, 2021 and provides comprehensive sector-by-sector analysis of the themes driving this activity.

Reasons to Buy
- This report offers a unique perspective on M&A activity in the TMT sector by focusing on the themes driving deals. This allows for a deeper understanding of the themes that are shaping the industry.
- It provides analysis of M&A activity in major geographic regions, including North America, Europe, and Asia-Pacific.
- It looks at the rise of special purpose acquisition companies (SPACs) and highlights their role in driving M&A deal activity.
- It evaluates the M&A deals announced by the leading technology companies (Google, Amazon, Facebook, Apple, and Microsoft), identifying the five themes on which they are focusing.