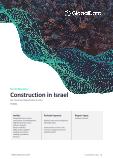 Construction in Israel - Key Trends and Opportunities to 2025 (H2 2021)
November 2021 •
49 pages •
Report ID: 6183613 •
Format: PDF
Construction in Israel - Key Trends and Opportunities to 2025 (H2 2021)

Summary
Despite weak growth in the first half of the year, owing to a wave of Coronavirus (COVID-19) infections and containment measures, Israel's construction industry is forecast to record growth of 3% in real terms in 2021, following a contraction of 4% in 2020.The outlook for the short term is clouded by political disruption, which prevented the passage of the government's 2021 Budget.

Although progress has been made in ending a political deadline, the broad coalition government that has taken office under a rotating system will likely struggle to implement policies.

The construction industry is set to recover in the medium term, as Israel continues to prioritize transport infrastructure.The severe congestion in Israeli cities is now deemed as the most critical infrastructure bottleneck.

Thus, The analyst expects the construction industry to register an annual average growth of 3% over the remainder of the forecast period (2022-2025). The government aims to build 191.4km of new light rail infrastructure with an estimated cost of ILS73 billion (US$21.2 billion) during the period of 2020-2027. Some the major light rail transit projects currently underway include the Jerusalem Light Rail Green Line, with an investment of ILS7.9 billion (US$2.3 billion), and the Jerusalem Light Rail Blue Line with an investment of ILS7.9 billion (US$2.3 billion).

The forecast-period growth is also expected to be supported by the government's plan for the intensive development of intra-city public transport systems, although the impact of the COVID-19 pandemic on public transport use may lead to some rationalization of transport priorities. The Tel Aviv light rail, the Jerusalem light rail, the Haifa-Nazareth light rail, the electrification of Israel Railways network and the fourth track on the Ayalon highway (which involves redirecting the Ayalon stream) will generate significant growth momentum in the construction sector; ILS107 billion (US$31.3 billion) will be invested in mass public transport projects, in addition to ILS21 billion (US$6.2 billion) in new highways between 2020-2025.

Construction in Israel - Key Trends and Opportunities to 2025 (H2 2021) report provides detailed market analysis, information, and insights into Israel's construction industry, including -
- Israel's construction industry's growth prospects by market, project type and construction activity
- Critical insight into the impact of industry trends and issues, as well as an analysis of key risks and opportunities in Israel's construction industry
- Analysis of the mega-project pipeline, focusing on development stages and participants, in addition to listings of major projects in the pipeline.

Scope
This report provides a comprehensive analysis of the construction industry in Israel.

It provides -
- Historical (2016-2020) and forecast (2021-2025) valuations of the construction industry in Israel, featuring details of key growth drivers.
- Segmentation by sector (commercial, industrial, infrastructure, energy and utilities, institutional and residential) and by sub-sector
- Analysis of the mega-project pipeline, including breakdowns by development stage across all sectors, and projected spending on projects in the existing pipeline.
- Listings of major projects, in addition to details of leading contractors and consultants

Reasons to Buy
- Identify and evaluate market opportunities using standardized valuation and forecasting methodologies.
- Assess market growth potential at a micro-level with over 600 time-series data forecasts.
- Understand the latest industry and market trends.
- Formulate and validate strategy using critical and actionable insight.
- Assess business risks, including cost, regulatory and competitive pressures.
- Evaluate competitive risk and success factors.