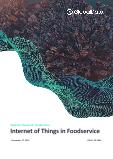 Internet of Things (IoT) in Foodservice - Thematic Research
December 2021 •
45 pages •
Report ID: 6243298 •
Format: PDF
Internet of Things (IoT) in Foodservice - Thematic Research

Summary
Internet of Things (IoT) technology is most valuable to foodservice companies in its capacity to collect data.Companies that use data effectively will enhance operational efficiency, reduce costs, improve decision-making, and provide a better customer experience.

And since the pandemic has driven so many more online orders and at-home deliveries, the already-strong opportunity to gain a competitive advantage by using data is now even stronger.

Whether foodservice companies will benefit from the emergence of IoT depends on their IoT strategies.A strong IoT strategy with effective implementation will bring efficiency gains and competitive advantage and align product offerings with modern, post-COVID consumption habits.

Companies without a strong strategy will be caught out or overtaken by competitors.

Scope
- The analyst forecasts that the global IoT market in foodservice will grow from $2.3 billion in 2020 to $3.1 billion in 2025, at a CAGR of 6.7%.
- Historically, the foodservice industry has been slower than other industries to adopt emerging technologies.
- IoT collects data, allowing companies to understand the problems they face and decide how to solve them.

Reasons to Buy
- Identify leading IoT vendors in the foodservice sector and select potential technology partners based on their competitive position within the IoT theme.
- Benchmark your IoT strategy against leading IoT adopters in the foodservice sector. Gain a deeper understanding of the competitive landscape of the industry and spot gaps in the market for new uses of IoT.
- Prioritize investments in the areas of IoT which will deliver the best results for your company. We provide recommendations on the areas of the value chain you should focus investment on and highlight the parts you can confidently ignore.