2 reports
Major players in the clinical oncology next generation sequencing market are Thermo Fisher Scientific (Qiagen), Oxford Nanopore Technologies, QIAGEN, Myriad Genetics, Illumina, F. Hoffmann-La Roche, Perkin Elmer, Agilent Technologies, Pacific Bioscience, and Caris Life Sciences. The global clinical oncology next generation sequencing...
Diagnostics
Public Health
Genome Sequencing
Drug Development
DNA Sequencing
Telecommuting
Breast Cancer
Cell Therapy
Industrial Automation
Oncology
World
APAC
Cancer Incidence
Cancer Mortality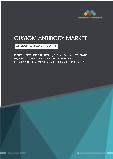 The global custom antibody market is projected to reach USD 652 million by 2026 from USD 393 million in 2021, at a CAGR of 10.6% during the forecast period.The increasing demand for protein therapeutics is expected to drive the custom antibody market in the coming years. On the other hand, the need for significant capital investments and long...
Drug Development
Monoclonal Antibody
Biotechnology
Polyclonal Antibody
Infectious Disease
United States
APAC
Cancer Incidence
Direct Sales