2 reports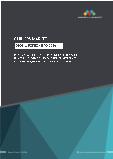 The chillers market is estimated to be USD 4.1 billion in 2021 and is projected to reach USD 4.8 billion by 2026, at a CAGR of 3.0%. This growth is attributed to the advantages and benefits of chillers. Also, the demand for chillers is driven by growth in the number of construction projects. However, the high initial setup cost is hindering...
HVAC
Air Conditioning
Alternative Energy
Refrigerator
Infectious Disease
World
Europe
North America
APAC
South America
Energy Consumption
Greenhouse Gas Emissions
Solar Freezer Market by Type (Solar-Battery Based and Solar-Direct Drive), Capacity (Less than 250 ltrs, 250-500 ltrs, and More than 500 ltrs), and End Use (Medical (hospitals, pharmacies & vaccines, blood banks and others), Household, Infrastructure, Commercial, and Other End Uses): Global Opportunity Analysis and Industry Forecast,...
Blood Supply
Pharmaceutical
Research And Development
Solar Energy
Vaccine
Electric Power
Refrigerator
World
APAC