3 reports

The Global Virtual Production Market size is expected to reach $3.1 billion by 2026, rising at a market growth of 14.3% CAGR during the forecast period. Virtual production (VP) is considered as the distinctive intersection of physical and digital filmmaking. With the help of virtual production, video game technology is blended with filmmaking...
Online Video
Filmed Entertainment Production
Television Set
Software
World
APAC
North America
Europe
Computer Expenditure
Transportation Expenditure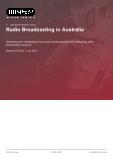 Poor frequency: Weak economic conditions and strong competition have caused revenue to dip Abstract Radio Broadcasting in Australia Industry companies broadcast audio signals over the air using radio waves to transmit programming. The industry includes commercial, community and public radio broadcasters....
Radio Broadcasting
Australia
Advertising Revenue
Consumer Confidence Index
Digital dilemma: Intensifying competition from podcasts and streaming services will likely lead to a decrease in revenue Abstract Radio Broadcasting in Canada The Radio Broadcasting industry in Canada has been at the mercy of the constantly evolving entertainment space for at least a decade. In particular,...
Radio Broadcasting
Broadcasting
Media And Entertainment
Canada
North America
Advertising Expenditure
Employment Income