3 reports
The Asia Pacific Rail Asset Management Market would witness market growth of 5.9% CAGR during the forecast period (2021-2027). Rail operators must modernise their basic IT platforms in order to fully reap the advantages of advanced digital asset management. It's possible that legacy technology systems won't be able to handle the massive...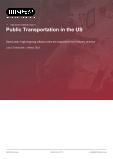 Stand clear: Decreased government subsidies relative to funding provided during the pandemic will likely decrease revenue Abstract Public Transportation in the US The Public Transportation industry performed well over the five years to 2018. Fare increases across major lines have helped spur an increase...
Transportation
Bus
Heavy Rail
Light Rail
Commuter Rail
Occupational Health
United States
Employment Income
Crude Oil Price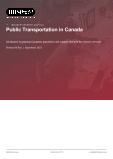 All aboard: A growing Canadian population will likely support demand for industry services Abstract Public Transportation in Canada Participants in the Public Transportation industry in Canada operate passenger transit systems over fixed routes and regular schedules within a metropolitan area. Transportation...
Transportation
Public Transport
Bus
Heavy Rail
Light Rail
Canada
Fuel Price
Urban Population