3 reports
Roundwood Market Report - Industry Size, Competition, Trends and Growth Opportunities by Region - COVID Impact Forecast by Types and Applications (2021-2028) Roundwood Market Overview Roundwood Market Research Report - is comprehensive research with in-depth data and contemporary analysis of the...
Roundwood
World
Disposable Income
Global Roundwood Market 2022-2026 The analyst has been monitoring the roundwood market and it is poised to grow by 15682.23 mn ft3 during 2022-2026, progressing at a CAGR of 2.68% during the forecast period. Our report on the roundwood market provides a holistic analysis, market size and forecast, trends, growth drivers,...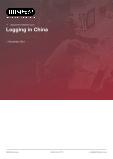 Abstract Logging in China The Logging industry in China purchases and leases harvesting equipment and machinery from relevant service providers and uses them to fell trees. Simple further processing procedures such as tree delimbing, topping and bucking are also included in this industry. The industry does...
Wood
Forestry
Roundwood
Sawmill
Hardwood
Pulp And Paper
Pulp
Softwood
China
East Asia
Employment Income
Agricultural Area