3 reports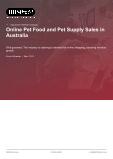 The cat's pyjamas: Industry revenue is rising as Australians increasingly pamper their pets Abstract Online Pet Food and Pet Supply Sales in Australia The industry includes online pet supply stores that retail pet food and supplies through the internet. Industry operators sell a range of products including...
Pet Food
Pet Supply
Australia
Online Retail Sales
Employment Income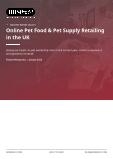 Giving out treats: As pet ownership rises in the current year, industry revenue is anticipated to increase Abstract Online Pet Food & Pet Supply Retailing in the UK Firms in this industry retail pet foods and supplies through the internet. Examples of products offered by online pet food and supply...
Pet Food
Pet Supply
United Kingdom
Disposable Income
Employment Income
This report forecasts annual US retail sales of pet supplies in US dollars for 2015-2019. To illustrate historical trends, total retail sales are provided in an annual series from 2010 to 2014. A Market Overview section provides pertinent background on trends in the market, competition, marketing and products, retail, and consumers. A...
Retail
Pet Supply
United States
Retail Revenue
Pet Products Sales