3 reports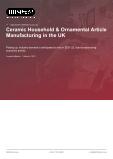 Plating up: Industry demand is anticipated to rise in 2021-22, due to rebounding economic activity Abstract Ceramic Household & Ornamental Article Manufacturing in the UK The industry manufactures ceramic household and ornamental goods. This includes ceramic kitchenware and tableware,...
Domestic Ceramics
Home Decor
United Kingdom
Disposable Income
Employment Income
The 9th Edition of the 'Floor and Wall Tiles Market Report - UK 2017-2021 Analysis' has been published by AMA Research. Incorporating original input and primary research, it represents an up-to-date and informed report on the market for ceramic & porcelain, natural stone and tiles of other materials (glass, metal,...
Natural Stone
Wall Coverings
Domestic Ceramics
United Kingdom
Scope of the Report The report entitled "Global Ceramic Machinery Market: Size, Trends & Forecasts (2017-2021)", provides analysis of the global ceramic machinery market, with detailed analysis of market size and growth of the industry. The report also includes a detailed analysis of the ceramic machinery market of Italy,...
Ceramic
Domestic Ceramics
Italy
World
Disposable Income
Number Of Enterprises