3 reports

Shs Global has recently started the distribution of a ## Degrees C branded Pistachio Milk in a Double Belgian Chocolate variant.
Beverage
Soft Drink
Alcoholic Drink
India
Disposable Income
Gross Domestic Product

Almond milk is one of the main on-trend alternatives, as well as coconut and rice milk; however other legumes and nuts, such as cashews and pistachios, or even peas and pulses, are also growing in popularity to produce plant-based milk alternatives.
Beverage
Tea
Functional Drink
World
Retail Revenue
Real Gross Domestic Product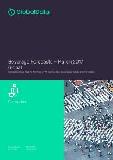 New flavor combinations were launched during the year (white chocolate and pistachio nuts, milk chocolate and nuts).
Juice
Wine
Beer
Fermented Milk
Flavored Milk
Spirits
Cider
Russia
Ukraine
Vietnam
Europe
Poland
Slovakia
Asia
Romania
Turkey
Slovenia
United Kingdom
Serbia
Macedonia
Spain
Africa
Disposable Income
Household Consumption Expenditure