3 reports
The Asia Pacific Newborn Screening Market would witness market growth of 7.2% CAGR during the forecast period (2022-2028). Newborn screening is a public health initiative aimed at identifying infants with treatable illnesses before they manifest clinically or cause irreparable damage. The first disorder to be targeted for the newborn...
Child Health
Oxygen Device
APAC
India
Hospital Number
Child Mortality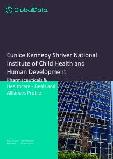 Summary Eunice Kennedy Shriver National Institute of Child Health and Human Development (NICHD), a subsidiary of National Institutes of Health, is a research institute that conducts and supports laboratory research, clinical trials, and epidemiological studies.The institute conducts research in the fields of fields of reducing...
Child Health
United States
World
Perinatal Mortality
Child Mortality

Summary Marketline's Company Mergers & Acquisitions (M&A), Partnerships & Alliances and Investments reports offer a comprehensive breakdown of the organic and inorganic growth activity undertaken by an organization to sustain its competitive advantage. This report includes Starpharma Holdings Limited's contact information...
Healthcare
Private Placement
Child Health
Australia
United States
Dates Price