3 reports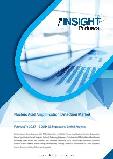 The nucleic acid amplification, detection, and diagnostics market was valued at US$ 14,014.59 million in 2019 and is projected to reach US$ 38,162.68 million by 2027; it is expected to grow at a CAGR of 13.4% during 2020–2027. The growth of the nucleic acid amplification, detection, and diagnostics market is mainly attributed to the factors...
Diagnostics
Molecular Diagnostics
World
APAC
Europe
North America
Middle East
Diagnostic Revenue
Chronic Disease Prevalence
This study covers the world outlook for biotechnology molecular diagnostics across more than 190 countries. For each year reported, estimates are given for the latent demand, or potential industry earnings (P.I.E.), for the country in question (in millions of U.S. dollars), the percent share the country is of the region, and of the globe. These...
Molecular Diagnostics
Biotechnology
World
Gross Domestic Product
Disposable Income
Summary Oxford Nanopore Technologies Ltd (Oxford Nanopore), formerly Oxford NanoLabs Ltd., is a privately-held biotechnology diagnostic company. It develops technologies for molecular detection and analysis. The company offers a range of nanopores and devices such as MinION, PromethION and GridION used for the analysis of DNA,...
Nanopore
Pharmaceutical
Agricultural Technology
Healthcare
Biotech Diagnostics
GM Crop
APAC
Europe
North America
Middle East
Africa