2 reports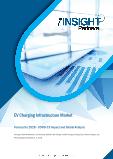 The EV charging infrastructure market was valued at US$ 8,805.35 million in 2021 and is projected to reach US$ 23,395.77 million by 2028; it is expected to grow at a CAGR of 15.0% from 2021 to 2028. The electric vehicle business is quickly expanding across the world, particularly in China and the US.The electric vehicle charging market...
EV Charging Infrastructure
World
Europe
North America
APAC
Electric Vehicle Sales
Greenhouse Gas Emissions
Global Low-speed Vehicle Market 2021-2025 The analyst has been monitoring the low-speed vehicle market and it is poised to grow by $ 1639.46 million during 2021-2025, progressing at a CAGR of 7.85% during the forecast period. Our report on the low-speed vehicle market provides a holistic analysis, market size and forecast,...
EV Charging Infrastructure
Electric Vehicle
Marketing Research
World