2 reports
This IDC Market Perspective covers two of the major machine learning-driven forms of image manipulation and the impacts they will have.AI image manipulation software (AIMS) is a type of software that allows you to edit images without the work leveraging machine learning. They're much more intuitive than their predecessors, which allow novice...
Artificial Intelligence
Digital Art
Computer Vision
Apparel
Photography
World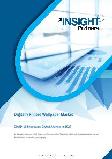 The digitally printed wallpaper market was valued at US$ 3,253.3 million in 2019 and it is projected to reach US$ 17,676.0 million by 2027; it is expected to grow at a CAGR of 24.2% from 2020 to 2027.Various benefits associated with digitally printed wallpaper and its growing adoption in diverse sectors are a fewof the key factors driving...
Wall Coverings
World
APAC
Europe
North America
Disposable Income
Urban Population